CompuClever is pleased to release the latest VB100 test results for CompuClever Antivirus PLUS.  We will present these results and help you to understand them as part of our ongoing testimony to the effectiveness of our AV product.  As is evident with these results… CompuClever Antivirus PLUS offers outstanding protection without slowing down your PC!
The Test Results
We've had four positive test results from the VB100 test lab, one of the few independently operated testing facilities focused on providing comprehensive examination of security software and solutions.  Let's start with an overview of these four tests that are available for online viewing.  These tests were conducted between August 2015 and October 2016 on various Windows platforms.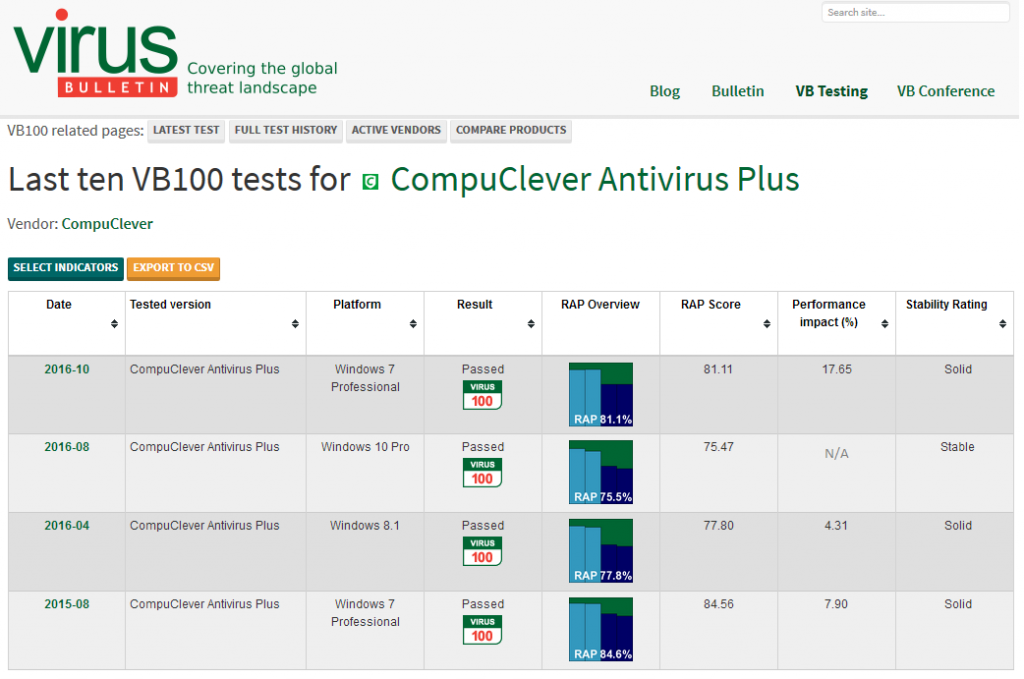 Overview & Breakdown
The specific results of each test are based on test markers which you can get an idea of when you mouse over the column title (RAP Score, Performance impact %, etc.)  We define them here:
Platform:  This is the selected operating system that VB100 performs its test on. VB100 tries to cover a spectrum of the most popular Windows OS with their tests focusing on one version at a time.  Note:  CompuClever Antivirus PLUS supports Windows 10, Windows 8, 7, Vista, & XP.
Result:  This is the overall result; simply put, it reveals if the antivirus software passed or failed the test.
RAP Overview:  "Chart shows RAP scores with weighted average overlaid." Note: The difference in scores is explained below.
RAP Score:  "Weighted average detection rate over recent malware samples, including retrospective coverage of new malware (Reactive and Proactive)."  Basically, this means the ability for the AV product to detect and react to malware threats.  This is the most important measure of how effective any AV product is; the higher the score, the more effective the product.
Performance impact (%):  "Increase in time taken to complete a set of common tasks."  This is the impact to system performance by the AV product when in operation. A lower score is better here.
Stability Rating:  "Rated on a five-level scale from Solid (no problems) to Flaky (severe issues)."  This is the rating given by VB100 based on the test results. This tells you the quality of the AV software apart from the previously mentioned effectiveness or performance impact measurements.
What is evident in these results is a consistent pattern of high RAP Score – detection of AV threats – and a low performance impact.  Once again this means that CompuClever antivirus PLUS works to protect your PC from online malware threats all the while operating in the background.
In this way, you won't notice it and it won't have an impact to overall system performance – something CompuClever dedicates itself to accomplishing!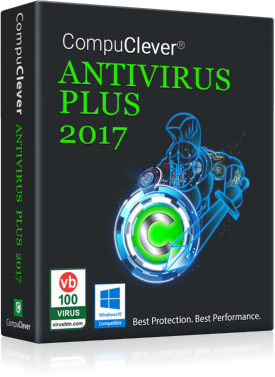 Overall Conclusions
Based on analysis of detailed test data, we are very pleased with the results of the tests. These results are in line with our original goals:
Total protection against any form of online threats: CompuClever Antivirus's high RAP score is among the list of top security solution providers, like ESET, Kaspersky, Bitdefender, and AVG.
Minimum impact to PC performance: CompuClever Antivirus's extremely low % in Performance Impact to PC performance outperforms most of our top competitors.
A solid and well-built antivirus product: It is easy to install without reboot, has an intuitive user interface, and is extremely intelligent and quiet. CompuClever Antivirus is regarded as a "solid" antivirus solution.
This is what VB100 lab says about us in one of its test remarks:
The design is slick and attractive, with a good range of options available and intuitive deployment of controls.
Stability was perfect throughout testing, with not the slightest shake even under heavy stress. Performance impact was decent too…
Detection was as excellent as one would expect, with good scores everywhere.[1]
Check Your AV Product
We invite you to examine the results for your AV product.  You can trust VB100 as it a free service that performs regular independent reviews of malware solutions and provides test results for AV software that handle both known (reactive) and unknown (proactive) virus samples. You can see the latest test results for any product or you can use the Search field to quickly find test results.
CompuClever Antivirus PLUS
CompuClever Antivirus PLUS offers unparalleled security technology against malware threats. It is designed to deliver the best performance for your PC and it is built on the most advanced antivirus technology available today. Exceptional in its ease of use, it allows you to handle security with a single click. The intuitive technology also guards your online privacy and digital identity with specific protection when doing online banking and online shopping.
Browse the following topics to learn more about Antivirus PLUS: