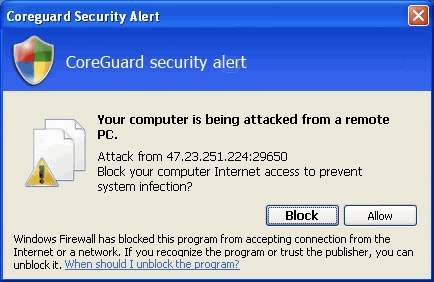 In a previous article discussing
whether we really need to compromise PC performance in exchange for security
, we presented the CompuClever Photon technology – an innovative feature that adapts security protection to the uniqueness of your PC. Photon makes CompuClever Antivirus light and fast, imposing almost no overhead to system resources. But how should an antivirus react to a true threat when it detects an intrusion? We are often presented with popups and reminders, like the one shown below, that most of us, even including those who work in the IT industry, don't know how to respond to, which may result in taking the wrong action.
CompuClever Antivirus PLUS works differently and better than this. It is essentially a silent security solution that only communicates useful information in language you can understand, keeping you informed and, keeping you in the driver seat. This is achieved through the combination of two features: Autopilot and Profiles.
Introducing Autopilot and Profiles
What makes CompuClever Antivirus' user-centric approach possible is the Autopilot and Profiles features, which work hand-in-hand to deliver silent security 24/7.
Autopilot
Autopilot makes the best security decisions for users, without user interaction, while eliminating notifications and popups. When Autopilot is switched on and CompuClever Antivirus detects any type of threats, it will automatically block it. Users do NOT need to define their protection levels or what actions to take whenever a threat is detected. It is automatically enabled and can be simply disabled.

The "secret sauce" of Autopilot is another cool technology: CompuClever Profiles – an intelligent technology that determines what you are doing with your PC and makes the right decisions for PC security! Additionally, with Profiles, CompuClever Antivirus not only works silently but also optimizes your PC for its best performance.
Profiles
The Profiles technology is designed to automatically detect when users work, play, or watch movies, and it prevents other apps from slowing down the system. Beside the standard profile, there are three profiles that fit most of our day-to-day PC usage patterns: "Work", "Game", or "Movie". CompuClever Antivirus PLUS will identify whenever the user is engaged in one of these activities and will maximize PC performance by directing more of the system resources to those particular applications. In addition, Profiles offers users an uninterrupted experience by postponing resource-consuming operations such as scheduled scans, automatic product updates, system maintenance tasks, Windows updates, and other third-party operations. It also suspends unnecessary background programs, eliminates pop-ups, and adjusts visual effects according to activities users are currently engaged in. Here are some behavioral description of each profile:
Work: postpone scheduled scans, initiate automatic product and signature updates every two hours, activate the anti-spam module, deactivate Search Advisor, and block product notifications.
Game: postpone scheduled scans, initiate automatic product and signature updates every twelve hours, deactivate Search Advisor, and block product notifications.
Movie: perform the same operations as the Game profile, but start product and signature updates every eight hours.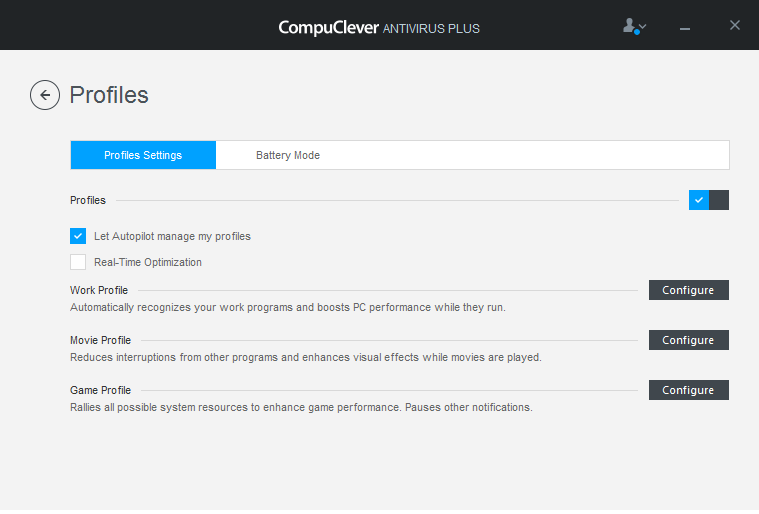 You can manually set your PC to one of these profiles or let Autopilot take over the control and make the best decision for you. Either way, CompuClever Antivirus PLUS ensures you are completely protected while you enjoy the best of what your PC is designed to deliver.
Real-Time Optimization
CompuClever Antivirus PLUS Real-Time Optimization is a plugin that improves your system performance silently in the background, making sure that you are not interrupted while you are in a Profile mode. Depending on the CPU load, the plugin monitors all processes, focuses on those that take up a higher load, and adjusts them to your needs.
The system is optimized by increasing the Profile's application performance, postponing system updates and Windows automatic updates, suspending unnecessary background programs, and eliminating popups in order to provide the best movie or game experience.
Security Report
Although CompuClever Antivirus is considered completely silent, it still reports to you once a week by delivering an easy-to-understand Security Report.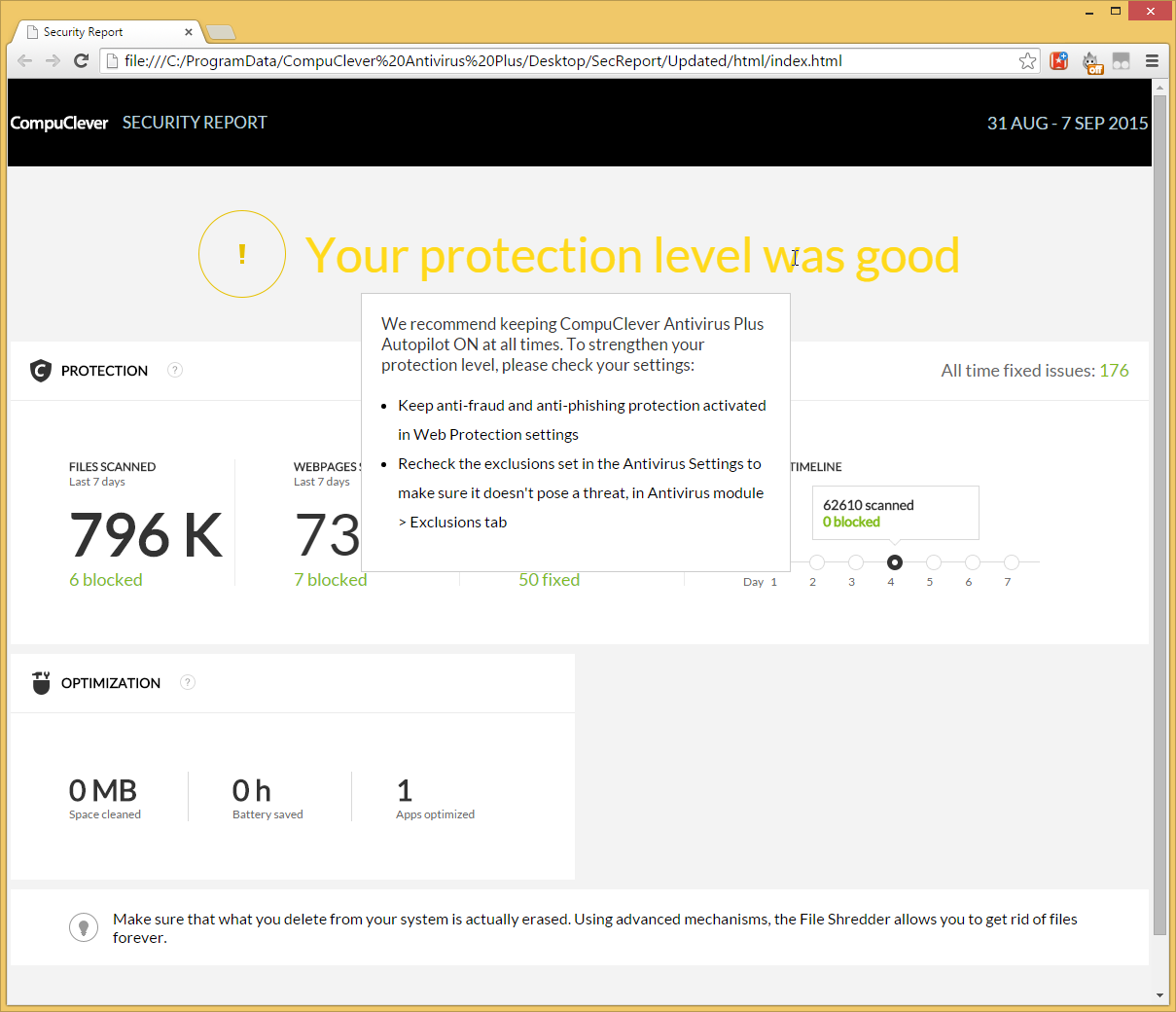 The Security Report presents the security status for the past week including scans, disinfections, an events timeline, and feature recommendations. These tips are important in managing the overall protection and users can easily see actions to be taken on their PC. The overall security score is calculated based on the critical protection used previously and other conditions that might represent a security risk. The Security Report uses an issue tracking system to detect and inform users about issues that may have impacted the security of the system and the data on it.
Conclusion
To learn more about the features and benefits covered in this article: