Thanks for choosing Digital Care ReadyBoost Disc, featuring Microsoft ReadyBoost technology. Before you start, please save all your documents and exit all running applications. Follow the steps below to install your Digital Care ReadyBoost Disc and optimize your PC.
Step 1. Insert the Digital Care ReadyBoost Disc to a USB slot of your choice.
Step 2. If AutoPlay/AutoRun is enabled, you can click the Speed up my system using Windows ReadyBoost option.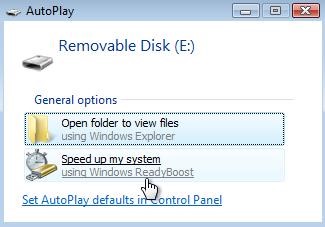 Alternatively, you can open Windows | File Explorer (or use keyboard shortcut: Windows Key + E), right-click the newly discovered removable drive and select Properties from the menu. Select the ReadyBoost tab from the Properties dialog box that appears.
If Windows states that "This device cannot be used for ReadyBoost – The device does not have the required performance characteristics for use in speeding up your system", follow the instructions of Reformatting Your Digital Care ReadyBoost Disc below. And then come back to this step.
If Windows states that "ReadyBoost is not enabled because this computer is fast enough that ReadyBoost is unlikely to provide additional benefit", this probably means that Windows is installed on an SSD and no performance gain is possible. Continue reading...