Over the last few years Internet fraud has increased and is becoming a serious issue for online transactions. Using a variety of methods, online thieves can easily access important information like bank accounts and personal data. This article helps you to understand essential techniques hackers deploy to break into your bank account and how to nullify these hacking attempts by using tools that may already be available with your antivirus application.
How hackers infiltrate your bank account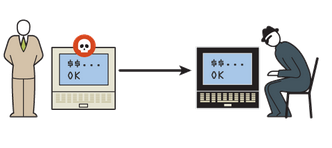 To infiltrate your bank account hackers need exactly the same set of complete credentials you would supply to your online banking site. It is extremely rare, although not impossible, that a hacker would directly contact someone who would then voluntarily give away her bank account number, login name, and password over the phone or email. But it is very common that a compromised PC infested with malware can provide hackers with the necessary recorded keystrokes, mouse clicks, and even screenshots. By mimicking the procedures they've learned with the obtained credentials, hackers can digitally impersonate you and thus gain access to your bank accounts over the Internet with ease.
How to nullify online banking hacking attempts
You can defuse these attempts head-on by knowing the essential schemes used by hackers. First and foremost, guard your PC with an effective antivirus program and prevent any malware from landing on your computer. But that's not enough, remember we talked about known and unknown malware? What if a new and unknown malware has made its way through the first layer of defense of detection? That's when the second layer of defense comes to the rescue. To effectively nullify online banking hacks, you also need to:
Secure your web browser and data transaction: The web browser is the weakest link of the entire online banking infrastructure and can be hijacked by third-party add-ons / toolbars / extensions and is also susceptible to phishing attempts.
Disable logging of your keyboard and mouse movements: Make your keyboard and mouse movement virtually invisible and un-recordable.
Disable screenshots: prevent your PC's screen from being digitally captured or copied.
They all sound theoretically and logically fine but there is no trivial way to configure your PC to take these measures without having software specifically designed to achieve such purposes.
Features that you should demand from security software
As stated above, your security software should provide you with extra measures to protect you from online banking hacks. Let's illustrate how these features work using CompuClever Antivirus PLUS as an example.
CompuClever Safepay is a proprietary and dedicated browser designed specifically for online banking. It creates a sealed environment, shielded from third party intrusions. Compared to products that use browser extensions, CompuClever Safepay offers superior protection because it doesn't rely on browsers with known vulnerabilities to a large array of attacks.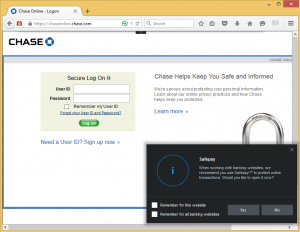 The dedicated Safepay environment gives you the following benefits:
It uses its own browser to avoid malware attacks.
It blocks add-ons and extensions which are the weakest link with browser security.
It scans all URLs for signs of malware and phishing compromise.
More importantly, CompuClever Safepay also:
Completely disables any key logging or mouse tracking attempts, and
Prevents any screen information from being captured or recorded – even   the [Print Screen] key is disabled during your session.
You can visit the online help file to learn more about how to maximize the benefit using CompuClever Safepay for online banking protection.
We recommend you check and discover if your existing security product provides equivalent functionality. If it doesn't or you are in doubt, we recommend you try CompuClever Antivirus PLUS for secure online banking.