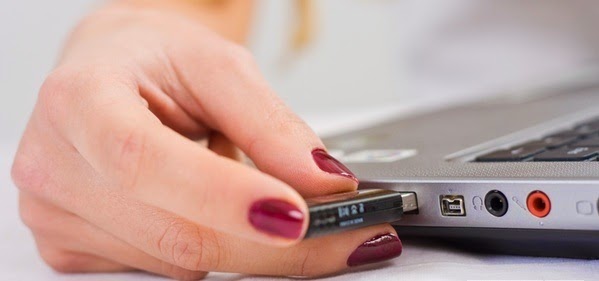 "Can I get off at the next stop?"  It's easy when you are on a bus, but not so simple when using computers.  The problem is the information highway is getting faster and trying to navigate can be frustrating.  We hope to make it easier with our upcoming series on USB technology and the functionality that is available.  We'll get started on a description of USB in general, highlight differences between USB 2.0 and USB 3.0, speak about USB hubs, and then discuss the USB flash drive.
The Connection
Speaking of buses… in case you didn't know, USB stands for Universal Serial Bus. USB has been around for a long time and it serves to standardize the connection, communication, and in some cases the power supply between a device and your PC.  USB is used for printers, cameras, keyboards, media players, as well as hard drive disks and flash drives.
In general, there are three basic kinds or sizes related to the USB connectors and types of established connection: the older "standard" size, in its USB 1.1, 2.0, and 3.0 variants (for example, on USB flash drives). [1]
USB Comparison
You are most likely dealing with USB 2.0 and USB 3.0 (as well as 3.1).  We'll focus on these specifically.  The most significant difference between them is speed; the rate at which information can transfer from one device to another.  Compared to USB 2.0, USB 3.0 is about 10 times faster and USB 3.1 is about 20 times faster.  Along with being faster, USB 3.0 also has the ability to provide power if the device does not have a power connection of its own.
How to identify a USB port on your computer or PC:
There are three main ways to identify a USB 3.0 port:
Typically, if it is blue it is USB 3.0.  However, if it is not blue it could be USB 3.0 as the standard is quickly disappearing as USB 3.0 becomes more popular.
The number of pins: A USB 3.0 port has 9 total pins. 5 in the front and the normal 4 in the back. You can shine a light into the port and if you see the 5 gold pins near the opening and 4 gold pins that are more recessed, you've got a USB 3.0 port. (See picture below: on the left is USB 3.0 and the right is USB 2.0).
The symbol: SS stands for "Super Speed" and this also means you have a USB 3.0 port. [2]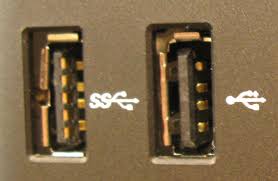 How to identify a USB cable:
The cable connector for USB 3.0 is typically blue while USB 2.0 cable connectors are white.  Micro USB connectors look different and, in some cases, have an additional section added to it.  You can see these in the image below, second from the left.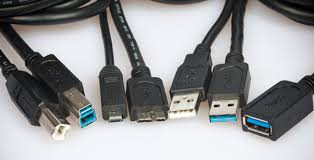 USB Cable and Repeaters:
The maximum regular cable length for USB 2.0 is 16 feet 5 inches (5 meters) and for USB 3.0 it is 9 feet 10 inches (3 meters).  You can use active, also known as "repeater", extension cables which are essentially one port USB hubs (as seen below).  For further information about cables we recommend you click the link to this site.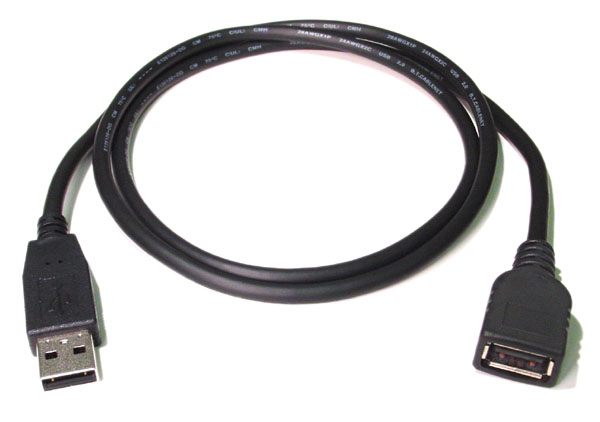 USB 3.0 – Do You Need It?
Is version 3 necessary for your needs?  It what situations will the speed advantage make a difference?  The answers are fairly straightforward.  The speed advantage gained by using USB 3.0 and 3.1 is useful when dealing with large files or with many files.  If you have a camera with a 32 GB memory stick in it and you take a lot of pictures, USB 3.0 / 3.1 will be much easier in transferring files.  If you use an external hard drive to back up your computer, using the fastest connection and devices will save you time.
Items like mice, keyboards, and your USB nick-nacks to keep your drink warm or cool can connect via USB 2.0 as the speed will mean nothing to these items.  For you serious gamers… plugging your mouse into a USB 3.0 port has no more benefit than 2.0.[3] If you print large files you may get some improvement in printing using USB 3.0 when printing large files, but for most home users getting prints faster is not a pressing need.
Backwards Compatibility
USB 3.0 and 3.1 are backwards compatible.  This means that they support 2.0 but that you will not benefit from the faster speeds available with version 3.  You can plug a USB 2.0 device into a 3.0 port, and a 3.0 device into a USB 2.0 port.  However, connection / transfer speeds will be at the slower rate.  So it is not a matter of needing to remember which device can be connected where, but realizing that you may not be getting the full benefits of the transfer speed.
Also, the cables connecting a USB 3.0 / 3.1 device need to support the standard or else you will be reduced to the slower speed.  The cables for USB version 3 have twice the amount of wire to be able to transfer the electrical current and support the higher transfer rate and thus are more expensive.  In most cases, devices come with the cables and are part of the cost.
USB Hub
A USB hub can expand one port to several so that you can plug in more than one device.  Laptops can come with several USB ports, and an external USB hub can "…consolidate several everyday devices (like a mouse and a printer) into a single hub to enable one-step attachment and removal of all the devices." [4]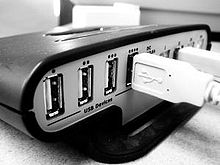 You need to keep in mind that a USB hub draws its power from the host computer's interface.  This is referred to as a "bus-powered" hub.  There are self-powered hubs available as well that can provide full power to every port using an external power supply.  Rule of thumb is, if using a bus-powered hub and your device draws a lot of power, it is best to plug your device in a port directly to your PC.  Also keep in mind that if you are using a USB 2.0 hub in a USB 3.0 port, it will work but there is a data transfer bottleneck as you are not getting the full potential transfer speed.
USB 3.0 hubs will support USB 2.0 devices but the Super-Speed capability of 3.0 is, again, not achieved in these situations.  USB 3.0 also includes some power management, so when you have multiple devices connected via a USB 3.0 hub and the devices are drawing power from the hub, only the device in use will receive power so as to not waste power.
When Buying a USB Hub
:
If you are going to get a USB hub you'll need to choose from a non-powered hub and a self-powered hub.  If you decide to go with the former, you won't have to plug it in so it is more mobile (good for laptops).  However, charging your devices through this kind of hub is not recommended and likely won't work.  In fact some devices require power directly from the USB port or a self-powered hub to work.
It is also best to buy one of the most current hubs that support USB 3.0 technology.  Even if your current PC doesn't use USB 3.0, the next PC you get likely will.  For more information on buying a USB hub: click this link.
The Stick
The USB flash drive is also known by many other names including: jump drive, data stick, pen drive, thumb drive, key chain drive, USB key, USB memory stick, and the list goes on.  It is a portable storage device as seen in the image presented here.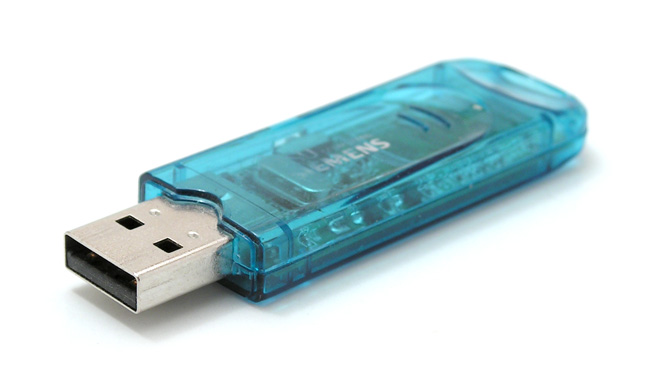 Here are the quick facts:
Size: It is about the size of a human thumb, thus the reference to thumb drive.
Storage Capacity:  When they first appeared they were about 8 MB in storage and now, in recent years the storage capacity has increased significantly and 8, 16, and 32 GB drives are common.  There are ones that are as large as 512 GB and 1 TB.
Connection:  It connects to a USB port.
Security:  You can easily lose these little items and they can easily be stolen.  There are third party disk encryption programs designed to protect your data.  As always, you need to back up any important data stored on these devices.
Uses:  Popular uses include data transport, storage of data, backup, and media storage but there are a wide number of uses including booting operating systems, running software programs, and for security – thus the name USB "keys" (or dongle or fobs).  USB flash drives can be inserted into stereo / audio players that support USB, and audio files can be played directly.
What is important to note is that these are an easy way to store and to transfer data.  They do not have any moving parts like an external hard disk drive, they use little power, and the data is safe from dust, shock, magnetic fields, and mechanical shock.  Some specially designed flash drives are even made to be waterproof and virtually unbreakable.
To Use it:
A flash drive can be used like any drive on your computer.  Start by inserting the flash drive into a front or back USB port or to a USB hub.  Once connected, open My Computer and you should see the drive labeled as "Removable Disk", "Flash drive", or as the manufacturer's name.  Once the drive has been determined, you can copy any file you want and paste it into the flash drive or drag-and-drop the files to the flash drive.[5]
In Summary
Picking USB 3.0 or 3.1 devices depends largely on your demands for speedy transfers.  If you are not working with a lot of files or large files, then we recommend checking out the price point between USB 2.0 and more recent versions.  However, keep in mind that technology keeps getting better and if your PC doesn't support 3.0 now, your next one likely will.
As for USB hubs, we recommend using them for connecting keyboard and mouse peripherals and other devices that do not require speed.  USB flash drives are really handy.  Just keep in mind that they can go missing or be stolen.  Back up and encrypt sensitive data.
We will continue to provide story lines like this that benefit all of us and we will describe them in a manner that is within reach of everyday computer users.  If you have some ideas of topics you would like us to cover, email us at: newsletter@compuclever.com