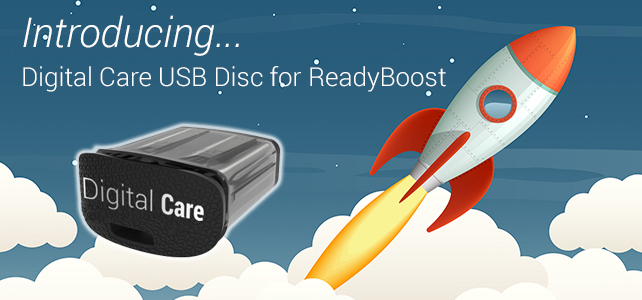 Q: What is ReadyBoost and how does it help my PC speed?
A: ReadyBoost is a Microsoft Windows technology that allows you to use ReadyBoost compatible USB flash drive, such as Digital Care ReadyBoost USB Disc, as an additional memory. Doing so, ReadyBoost improves your system's performance by providing quicker access to data compared to accessing the information from the hard drive. To learn more about the ReadyBoost technology, please read this blog post.
Q: What's the System Requirement for Digital Care ReadyBoost USB Disc?
A: Digital Care ReadyBoost USB Disc supports Windows Vista, Windows 7, Windows 8/8.1, and Windows 10
Q: Do all USB flash drives support the ReadyBoost technology?
A: No. A USB flash drive must meet the minimum random ready and write speeds requirements to support the ReadyBoost feature.  In order for ReadyBoost to work, it requires a USB storage device to have at least: 64MB, USB 2.0, read at 3.5 MB/s, and write at 2.5 MB/s. Our Digital Care ReadyBoost USB Disc well exceeds this requirements.
Q: Aren't Hard Disks faster than flash? My HDD has 80MB/sec throughput.
A: Hard drives are great for large sequential I/O. For those situations, ReadyBoost gets out of the way. Continue reading...