In March 2017, the US Congress voted to allow internet service providers (ISPs) to sell customer data. Anyone in the United States who connects to the Internet must rely on an ISP. This means your ISP now has knowledge of all of your browsing habits.
While ISPs claim they will use your Internet history to help sell you more relevant ads, the decision by Congress has made many people deeply uncomfortable.
WiFi Hotspots Are Also A Risk?
It's not just ISPs who are after your browsing data and personal information. For example, whenever you login to a WiFi hotspot in a coffee shop or at the airport you are potentially putting yourself at risk. WiFi hotspots may not protect your data as it is transmitted to and from your device. Even worse, some WiFi hotspots may want to steal your data, such as browsing history or even passwords and credit card information.
Luckily, something called a virtual private network (VPN) may help protect you from ISPs and anyone else who wants to snoop on your Internet habits.
What Is a VPN?
A VPN is essentially an online service that allows you to create a secure Internet connection. All of your browsing is encrypted, meaning that no one, including your ISP or even the government can determine what you are doing on the Internet.
How Does It Work?
When you connect to a VPN, you usually launch a VPN client on your computer (or click a link on a special website), log in with your credentials, and your computer exchanges trusted keys with a far away server. Once both computers have verified each other as authentic, all of your internet communication is encrypted and secured from eavesdropping.
There are two main advantages to using a VPN:
Advantage #1: Browse Privately and Safely
As mentioned, all of your browsing information is encrypted. This means that your ISP cannot sell your data to a third-party for advertising. VPNs also ensure that your passwords and banking information are kept safe, too.
For example, many journalists and businesspeople traveling abroad use VPNs to protect their privacy.
Advantage #2: Browse Everywhere
Businesspeople and journalists may also use VPNs just to be able to communicate. For example, the Great Firewall of China prevents Internet users from accessing many useful websites from outside of China. Many people rely on VPNs to access indispensable online services for their jobs.
On the other hand, VPNs are also useful because they allow you to browse as though you were in any country. Many online content providers such as Netflix, Hulu and the BBC restrict access to content based on your country. You can use a VPN to get around these rules.
What to Look For In a VPN
Not all VPNs are created equally, so it's important to look for the right one before making a choice.
Look for:
Speed
If you want to use a VPN in order to watch online content such as Netflix, make sure it has enough bandwidth to do so. Generally speaking, this bandwidth is a result of investments in server capacity and other technology. Some VPNs have more than others.
Your Data Must Be Kept Safe
Almost anyone with a little technical know-how can setup a VPN service and then sell it to consumers. The problem for you is: how do you know they're going to protect your data?
Look for a VPN with a professional website and an active and responsive social media presence. And, if you're really concerned with privacy, look for a VPN that has its servers in a country with strong data privacy laws. In countries such as the United States and the United Kingdom, government now has broad powers to access your data.
Countries such as Canada, Germany and Switzerland have much stronger rules prohibiting government collection of personal data, so look for a VPN headquartered in one of those countries first.
When Can a VPN Not Protect Your Privacy?
Even if a VPN does not share your personal information, there are others who can. For example, Google and Facebook both use your profile data, which includes browsing history, to sell advertising. A VPN is not designed to prevent this from happening–protecting yourself from Facebook and Google's efforts to collect data is best done using browser-based ad blocking tools.
Also, keep in mind that you typically choose to use Google and Facebook because you agree to trade some privacy for the convenience of their services.
However, since you pay ISPs directly, you should expect that your privacy be respected. But since ISPs and others are not respecting your privacy, it may be a good time to use a VPN.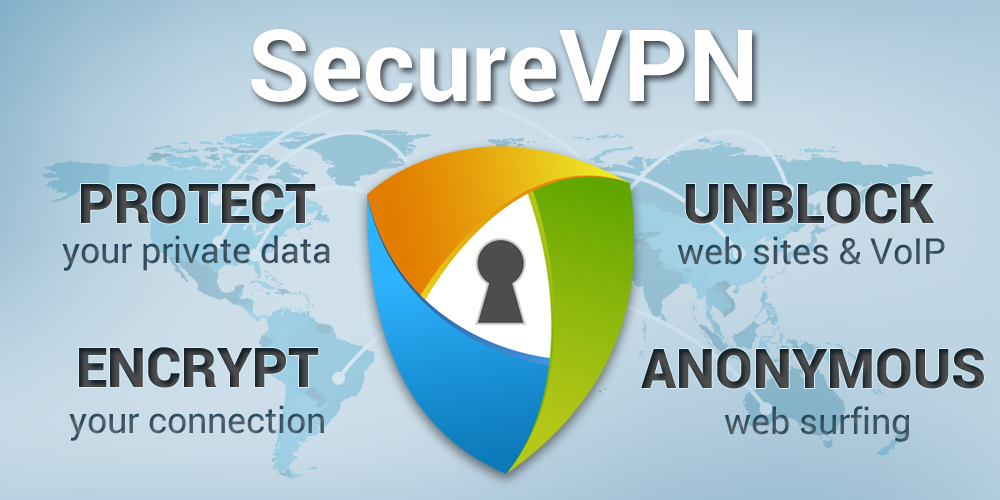 What We Recommend: SecureVPN
SecureVPN allows you to surf the web anonymously, unlock websites, unlock VoIP services, secure any wifi hotspot, and protect your data & privacy.
SecureVPN operates a self-managed VPN network with at least 750 servers in 141 countries, with plans to add more.
Since there are so many local servers, this means SecureVPN promises the fastest speed possible. SecureVPN also owns its own network–there are no third-parties that gather data, and SecureVPN keeps no logs of your activities.
Why choosing SecureVPN?
SecureVPN offers a variety of features, including:
No 3rd Parties for Your Data: SecureVPN has a self-managed network. Your data is handled by SecureVPN only, without the intervention or interference of any third-parties.
Military-grade Encryption: SecureVPN employs top-of-the-line military-grade up to 256-bit encryption to protect and safeguard user's data from falling into the wrong hands.
750+ Servers in 141 Countries: SecureVPN has servers in 141 Countries. So, no matter where you are or where you travel to, SecureVPN will connect you to your favorite content.
99.99% Uptime: SecureVPN has its own network of servers and a team of highly professional experts who manage and host the network to guarantee 99.9% uptime.
Powerful Software and Apps: SecureVPN wrote its own code for its proprietary software and apps for every major platform including Windows, Mac, iOS, Android, and Linux.
Unlimited Data Transfer: Download, browse, stream or share, SecureVPN users are free to do whatever they want, how much they want since there is no bandwidth or data limit.