Bluetooth is a safe, useful technology, and there are many affordable options that allow audiophiles to go "cord-free."
Bluetooth is the next big thing in consumer technology. At least, that's what companies like Apple are betting on.
In September Apple unveiled the iPhone 7. While some are saying the new iPhone features revolutionary technology under the hood, Apple got the most press for deciding to kill the headphone jack.
Instead, if you want to listen to anything on an iPhone 7 you'll have to use wired (and very expensive) earphones that plug into the iPhone 7's Lightning power port. You can also purchase Apple's sophisticated Bluetooth earphones—aka "AirPods", and a supercomputer in their own right.
Thanks to Apple's iPhone 7 launch, then, Bluetooth has come back into style. But what is Bluetooth? And it is any good for listening to music?
Bluetooth—Simple to Set Up
Bluetooth is a wireless technology that transmits and exchanges data over very short distances. For example, while your WiFi router reaches to pretty much every part of your home, Bluetooth transmits up to twenty feet or so.
Bluetooth's main advantage over WiFi technology is that is extremely simple to set up—typically all it takes is the press of a button in an app. WiFi, on the other hand, can be tricky and time-consuming to configure.
Bluetooth also requires far less power to operate than WiFi. This makes Bluetooth a great technology for devices such as Apple's new ultra-expensive wireless headphones.
How Is Bluetooth Used?
Popular "sound bar" speakers use Bluetooth technology. Pair a sound bar with your smartphone and listen to music on the patio, out at the beach, or just around the house.
As well, many higher-end cars come equipped with a Bluetooth transmitter that pairs your phone with the car's audio system. This allows hands-free driving.
However, Bluetooth is most typically used with wireless headphones, as well as wireless headsets paired with smartphones.
Easy to pair with your smartphone, these wireless gadgets have no wires that can get tangled, or that fray and wear out.
Bluetooth headphones also don't use much power, so, all in all, they're pretty convenient.
Doesn't Bluetooth Cause Cancer?
Ever since World War II, people have been worried about the health effects of wireless technologies, and Bluetooth is no different. However the power output of a Bluetooth device is much lower than even a cellphone.
The IEEE—the organization representing engineers and other scientific experts around the world—says the biggest danger from Bluetooth comes from being distracted while you perform day-to-day tasks. The biggest risk of Bluetooth, according to the IEEE, is walking into a pole, or perhaps crashing your car if you aren't paying attention.
Bluetooth devices don't emit a lot of power, says the IEEE, so there are no health risks, including cancer, when using the technology.
What to Look For In Bluetooth Wireless Headphones and Earphones
While the iPhone 7's wireless AirPods are going to cost a ton of money, there are more affordable, high-quality Bluetooth earphones on the market already.
Good acoustic reproduction
Bluetooth earphones and headsets, even if they're not made by Apple, can be pretty expensive. It's tempting to look for cheaper headphones. The problem with this strategy? Poor audio quality. So, the first consideration (after your budget) is good audio quality.
Long battery life
While Bluetooth doesn't use a lot of technology, not every headphone set gets good battery life. It's a question of engineering. So look for Bluetooth earphones that have at least 5 hours of battery life. This should get you through the day.
Multi-functional and light
There are some Bluetooth rigs that are just gigantic, so be on the lookout for more up-to-date designs that fit lightly into your ear.
Make sure that your headphones are multifunctional as well. All headphones should include a mic, so you can make telephone calls, and a simple switch that allows you to pause audio.
Noise isolation
It's possible to get headphones with "noise isolation" without having to pay the hefty price of noise-cancellation. While noise cancellation uses expensive technology, "noise isolation" does not make use of any power or electronics to block out surrounding noise. Rather, it employs the choice of optimum construction materials and an ergonomic design to block out as much noise as possible from entering the ear canal. Think of it as sound-proofing for your ears.
Sweat proof
If you go to the gym with your headphones, the sweat from your workout will probably destroy them pretty quickly… unless you purchase headphones that have been designed to deal with sweat and other ambient moisture.
Reasonably priced
While Bluetooth earphones can be pretty pricey, sometimes the big price tag is just a marketing gimmick: "if the headphones are expensive, it means they're really good, right?"
However, it's possible to find high-quality Bluetooth earphones for a reasonable price. You don't have to spend a fortune.
Editor's Pick: Bauseus Bluetooth Wireless Headphones
So, are there any wireless Bluetooth headphones that meet all of the above criteria? We think so—let's take a look at Bauseus Bluetooth wireless headphones, featured on CompuCleverGear.com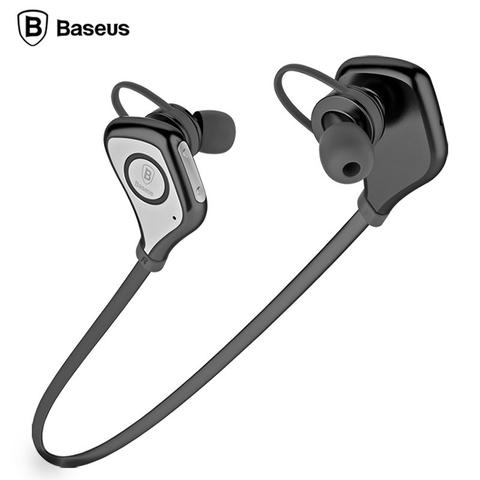 What we like about Baseus Bluetooth wireless earphones:
Baseus Bluetooth wireless earphones deliver high quality sound in a compact form while looking simple and elegant
They have a long 5-hour battery life while playing audio
There are handy buttons to control volume, accept calls, search for music and more
The headphones are also designed and manufactured with a water-resistant rating of IPX-4 to be sweat-proof and rain-proof
Best of all, the earphones are completely cordless
Baseus Bluetooth wireless earphones, along with all other earphones,  are currently on sale at CompuCleverGear.com.
In Conclusion...
Thanks to the ultra-premium (and ultra-expensive) Apple AirPods, Bluetooth technology looks like it's here to stay. Bluetooth is a safe, useful technology, and there are many affordable options that allow audiophiles to go "cord-free."
If you have any questions about Bluetooth, let us know in the comments!