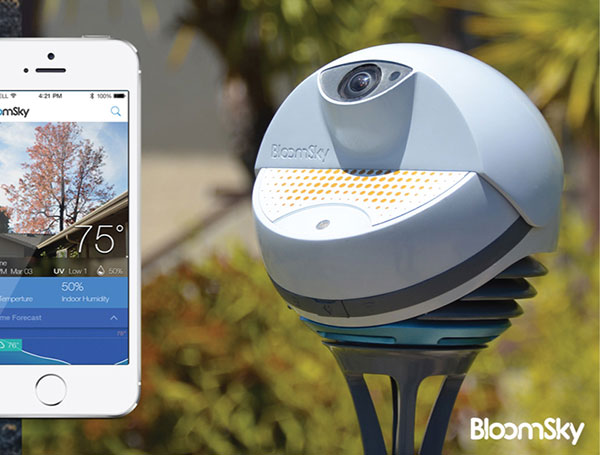 For some of us, spring is coming soon this year, and we are getting ready for the bloom.  With the coming of the season, we put more attention on the sky.  So what better time for us to roll out a review of a technology that we are really excited about! In a mini series of three articles, we are introducing our readers to BloomSky – a crowd-sourced, hyper-local weather network powered by an innovative smart weather station.
We'll get started by looking at the company vision and the technology offered.
The company vision at BloomSky is to change the way people access weather information.  They are setting out to build a weather network based on data that is "crowd-sourced" and image based.  Weather is captured by devices around the world by regular people and presented using images and daily time-lapse photographs.  Of course it is available to be viewed online with your PC or your mobile device.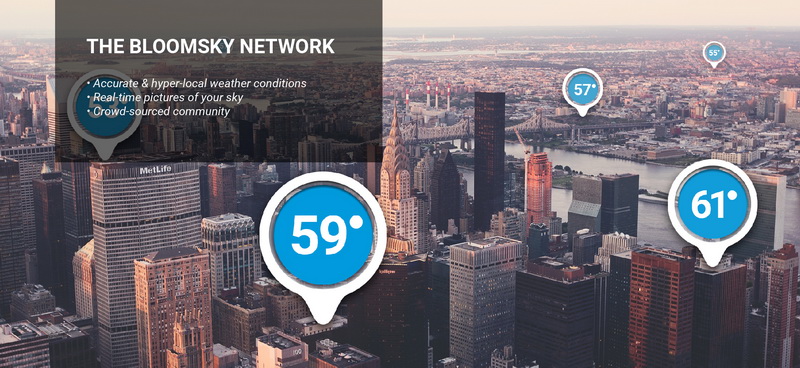 The Vision:
Speaking of regular people, we've had a chance to connect with the CEO and the marketing coordinator at BloomSky who shared more about the company and the vision.  They are located in the Bay area and the CEO's name is Xiao (pronounced: Shee'ou).  He tells us his goal is to bring about the largest independent data network that covers the globe.  The emphasis is on "independent".  The collection of weather data is independent from other sources.  They want to better serve areas not currently covered by government or agencies.   This includes for example, rural areas and territories that have little to no coverage.
The Product:
The hardware portion of this technology is an HD camera equipped smart device with some impressive features: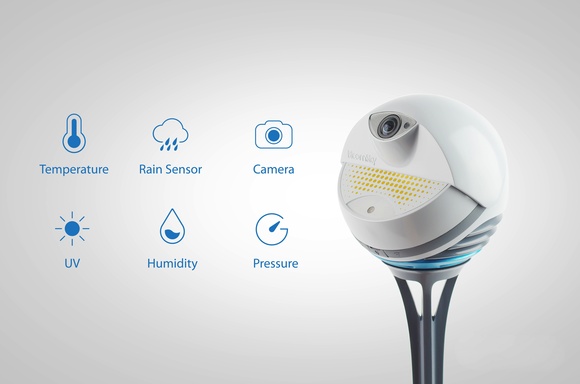 Ultra-wide Angle Camera: captures pictures of the sky every five minutes, creating a time-lapse video at the end of the day.
Dependable Weather Sensors: measures temperature, humidity, barometric pressure, UV exposure, and precipitation using reliable sensors.
Constant Data Collection: records weather information uninterruptedly with the solar panel option.
Designed with Durability: adapts to the harshest weather conditions, including gusts, downpours, dust, and UV radiation thanks to its aerodynamic design.
Smart Wireless Integration: connects seamlessly through a Wi-Fi router and smartphone, as well as with other smart home hardware and applications.
Broadcast to the World: provides the ability to share weather data and images to family, friends and the world.
Powered by Solar: BloomSky can be optionally powered by solar panels so that it can be installed at a location where direct AC power is not easily accessible.
Here's a good video that highlights the functionality of this device:
The Community:
Taking part in the BloomSky community is easy and you can choose your level of involvement.  We'll start by introducing you to the basics.  The application is freely offered in the following flavors:
Free online service at: https://maps.bloomsky.com/; no account is necessary and there is no download!
Free mobile app available for iOS and Android; again, no account required and it is free.  Simply go to the App Store or Google Play and look for "BloomSky".
Let's Get Started:
We'll walk you through the first steps of checking out the BloomSky community.  Once on the site you can begin to explore locations around the globe!
Click on the link: https://maps.bloomsky.com/
The web page is divided into two regions as can be seen in the image.
In the top half you can enter a location in the search box like so…
Note: You can also move the map and find a location using the red circle regions.
Click on a red circle or any of the images in the lower half which are a subset of the BloomSky devices within the viewable map.  A box appears with a current image of the sky from that location. Now you can click the image or the "View Details" button to get weather information such as what you see here:

You can also play a time-lapse of the previous day's weather.
Our First Impression:
Like the BloomSky community growing around the globe, we're excited.  This is real-time weather tracking provided by real people.  It's a true indication of a global neighborhood.  The features that inspire us include:
Access to current weather data and forecasts.
Real-time view of the sky around the globe.
Relevant weather information from five high-grade sensors to measure: temperature, humidity, barometric pressure, UV, and precipitation when it occurs.
Easy to operate interactive map.
Easy to access daily time-lapse videos.
An offer for our readers:
For those who are interested in joining the BloomSky network, BloomSky is currently offering an unprecedented special promotion to our readers. Simply follow the link and use coupon code: COMPUCLEVER to get up to $40 off when you purchase a solar powered BloomSky weather station.
Disclaimer: CompuClever will not financially benefit from any purchase that may result from this article, which serves as a purely independent review.
As the BloomSky community is saying… it's fun and educational too.  We will be following up this review with further reviews of the BloomSky technology for those of our readers that are interested in taking the next step:  getting a BloomSky weather device of their very own.
Stay tuned!