Thanks to smartphones, video cameras and other gadgets we all create a massive amount of files. Often our computer hard drives are too small to store all of this information. Luckily, there are free remote backup services such as Dropbox and Google Drive that can automatically upload our files remotely.
The biggest problem with saving remotely on cloud services such as Google Drive and Dropbox is you could be hacked. Even Apple's iCloud service, with some of the toughest security in the world, has been hacked.
So, it's always a good idea to backup locally first before relying on remote backup. USB or "thumb" drives are handy devices that in many ways can be the perfect solution for local backups.
Reliable and cheap, USB drives can store anything from 1GB (the size of a feature-length HD movie) to 1TB (1000 feature-length movies) of data. Unlike a powered HDD backup drive, USB drives are also portable and easier to keep safe.
How Many Files Can Be Stored on a USB Drive?
If you're backing up images from your camera and want to know how many will fit on a USB thumb drive all you really need is to know is the size of the image, which is measured in megapixels. Use the table below to find the size of the megapixels along the left, and then the size of storage in the USB key across the top: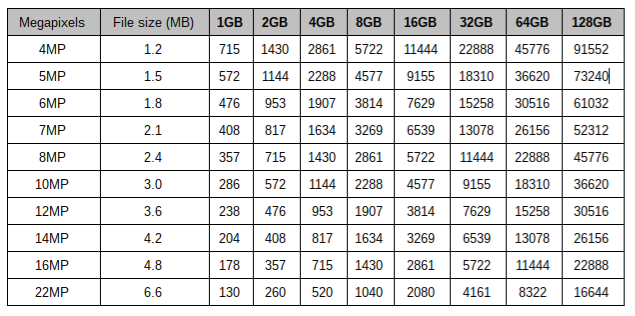 So, a 64GB USB key can store over 8,000 high-resolution images—this should be more than enough enough to back up all of the photos you take on a vacation if, say, you have limited access to Internet to make an online backup.
For videos, documents and other files, file sizes range dramatically. To figure out your storage needs you'll have to look at the sizes of your files or folders in Windows Explorer.
Remember, the larger the file, the longer it will take to transfer from your computer. So it may be worth it to consider USB 3.0, which is the latest and fastest USB standard.
Compared to USB 2.0, USB 3.0 is about 10 times faster and USB 3.1 is about 20 times faster. Along with being faster, USB 3.0 also has the ability to provide power if the device does not have a power connection of its own.
Speed Up An Older Computer With a USB Drive
Besides performing backups and safeguarding your data, USB drives can speed up your computer. This technique is super effective for older computers that typically have smaller amounts of RAM—2GB, for example. RAM is the "secret ingredient" to making your computer run fast, and if you don't have a lot of RAM, using a computer can be a frustrating experience.
A USB drive can help with that. Using a technology called ReadyBoost, you can plug a USB into your computer and get a performance upgrade. Read more about it here.
Try Out a USB 3.0 Kingston DataTraveler—On Sale Now!
If you're interested in trying out USB 3.0 for yourself, the Kingston Digital DataTraveler USB 3.0 flash memory drives are on sale right now on our newly launched hardware site CompuCleverGear.com.
Since the Kingston USB flash memory drives uses USB 3.0 technology it's a great way to not only speed up your backup process but also to future-proof your saved files.