Over time and frequent use, Internet Explorer can accumulate extra "add-ons" and can experience changes that result in slow performance.   There are instances where settings are adjusted by add-ons, browser extensions, and toolbars without your knowledge or approval.  What most users experience when installing items to their computer are software additions that are part of the package.  In other words, you begin installing some item and it includes browser add-ons that are intended to give you quick access to websites (via shortcuts) or additional functionality such as search fields.
Slow Performance:  The result of unwanted add-ons can be slower times when opening IE, slow browsing speed (it takes longer to view the pages you browse to), and unexpected behaviours such as crashes and program freezes.  Even worse, there are those additional items that can be malicious.  They function in such a way as to include links to sites that threaten the security of your online banking / financial information, they can lower your security settings making you vulnerable to further malicious attacks, or they can also result in annoying pop-ups that you can't stop from appearing.  A good indication that you need to reset your IE to its original "factory-installed" state.
From the Start:  With PC TuneUp Maestro you can easily use two IE Repair tools to address these issues.
Step 1:  First you need to open the program and click "Fix & Clean" in the left panel.  The window will appear as seen here: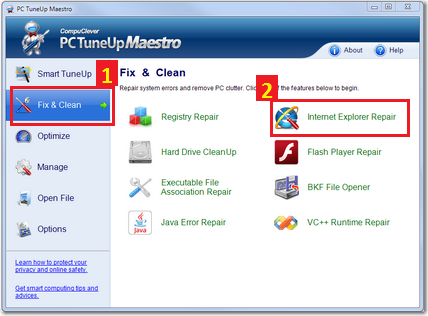 Step2:  Click the Internet Explorer Repair tool.
Step 3:  We are going to now revert IE so that it runs a temporary Internet Explorer session without any add-ons, toolbars, ActiveX controls, or Browser Help Objects.  By doing so you can preview how IE performs with the new changes.
Click the Launch button as seen below:

Note: This is a temporary change.  You can now go online and see if your IE browser is more responsive and can view all available content on the targeted sites.  If you re-launch IE, the browser will load as it was with all add-ons.
Step 4:  If after the previous step you want to make a permanent change, we recommend clicking the "Reset" button in the following IE Repair tool:

The Results:  Your IE browser will be returned to the state it was when it was first installed with one important distinction – the add-ons are not deleted.  The makers of PC TuneUp Maestro recognize that add-ons can be useful when installed by a trustworthy software manufacturer.  The add-ons are not in fact deleted from your PC but have been disabled and are prevented from automatically being loaded when you start IE.  In this way, when an add-on is required, IE will explicitly request permission to load the add-on.  This is an opportunity for you to approve only those add-ons that are legitimate and necessary for your computing needs.
Best Practice
The most important best practices we recommend is to closely monitor what you install. During any installation, read carefully what you are installing, choose to custom install where possible and remove any additional items from third-party vendors. Keep in mind that many free software programs make money by including these additional installations. We hope this article has been helpful and that you are well on the way to a more productive online experience.