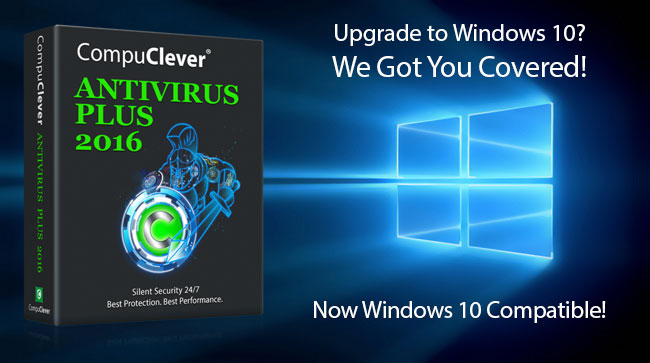 During the launch event of our newly released security product –  CompuClever Antivirus PLUS 2016 back in August, many keen users have contacted us about Windows 10 support. I am very excited to announce, as of today, CompuClever Antivirus PLUS 2016 officially supports Windows 10.
>> Learn more about CompuClever Antivirus PLUS

Now, with Windows 10, Microsoft imposes stringent requirements for antivirus software to ensure they are fully compliant to the enhanced security Application Programming Interface (API) specification for Windows 10, AND that the antivirus program also contributes positively to the user experience especially in terms of impact to PC performance. CompuClever Antivirus PLUS 2016 fully meets these new and heightened standards. The antivirus software has been officially approved by Microsoft as being compatible with Windows 10.
>> CompuClever Antivirus PLUS 2016 Now Supports Windows 10
If you are upgrading to Windows 10, please be aware that Microsoft said: "If your anti-malware subscription is not current (expired), Windows will uninstall your application and enable Windows Defender". We have expressed our concerns about Windows Defender stating that it is not the best antivirus protection you can get, free or paid, even according to PC Magazine.  We recommend anyone upgrading to Windows 10 should check what antivirus protection is running after making the switch.
>> How to tell if your antivirus provides you enough protection
With CompuClever Antivirus PLUS, you can protect a PC with the best antivirus technology trusted by over 500 million users around the world. Still not convinced? No worries, take a FREE 7-day trial for a spin and we guarantee that you will see the difference between your current antivirus program and CompuClever Antivirus PLUS 2016, which offers total security protection with no compromise of PC speed.
Give you and your family the best PC security protection available!