Microsoft Windows has now released its next operating system – Windows 8.  There are many sophisticated functions and features.  In a nutshell, it is safe to say that this new operating system (OS) is a profound shift from previous versions.   In this article, we at CompuClever strive to best present some of the more technical aspects in ways that make sense in order to get a perspective and an insight that our readers can grasp without being washed out in a storm of nuances and complex technologies.  After this brief feature description, we will provide the observations that our experienced staff and technicians have noted when trying out the new OS for the first time.  Finally, we will provide our recommendation.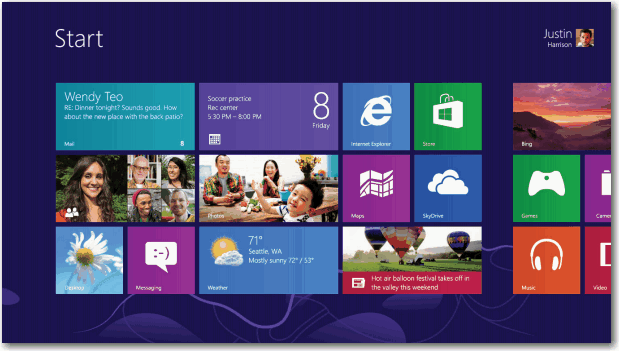 Here are some of the notable features:
Windows RT.  The "RT" stands for Runtime.  This is one distinct version of the new OS that is available and designed for mobility so that it can run on thin and light PCs like the Microsoft Tablet PC – Surface.
Tiles.  The Start screen has numerous tiles each of which is connected to a person, app, website, playlist, etc.  Tiles light up when there is new information available.
Built-in Apps from the Windows Store.  Each of these has a particular function (Mail, Video, People, Messaging, Photos, etc.), and tie together common elements.  For example, with the Photos app you can see images from Facebook, Flickr, and all your stored images.
Touch screen technology.  If you have the monitor technology to support it, you can swipe, tap, pinch-and-stretch, click, and more, directly on your screen.
Sky-Drive.  With this feature your files can be stored on your hard drive and in the cloud.  You can access them regardless of location and from multiple PCs or from your phone device.
Windows 8 comes in three flavors, Windows RT, Windows 8 Basic, and Windows 8 Pro. Read this blog article to learn more about the three versions.
Our Observations
While there are some appealing features to the new OS, our software developers and PC support specialists came up with some observations based on their first experiences.
Learning curve.  First off, you need to be mindful that unlike any other upgrades, there are several new features that will take some adjustment if not a bit of learning and training.  As a result, navigation can be a challenge.  Without touch screen capability you will have to find how to navigate the old fashioned way – mouse and keyboard.
Tile interface.  Right from the start, you will notice that there is no start button.  This means getting used to navigating in a whole new way.  For those users who find Windows Explorer an essential tool for file management, this can be a challenge.
Overall feeling of disorientation.  As a result of the drastic changes to the operating system, it is easy to feel disoriented when operating the new Windows 8 platform.  For instance, you need to know about the "Charms" bar in order to perform a search, alter settings (for Windows 8 and any app), share content across apps, configure external devices, and more.   You need to know how to make visible the control/settings bars when hidden.  You also need to explore how moving your mouse will reveal various features.  Move to the lower-left corner and your Start screen is revealed; upper-left corner for the most recently visited app, alongside the left edge to display your other most recently used apps.  You definitely need either a good map or a general nature of exploration to get yourself around and back again.
Our Recommendation:
Switching to a brand new operating system can be enticing – there are a lot of new toys to explore and play with.  Another motivation for upgrading may be that you are unsatisfied with the performance of your PC and present operating system.  If this is your reasoning, we strongly recommend that you take a different course of action.  In time, and through daily use, any computer system can get bogged down and cluttered.
So with this in mind we recommend the following: Optimize, Organize, and Wait.
Optimize.  For the duration of time you use your current PC, keeping it running at optimal level is in your best interest.  By doing so you can make the right decision about whether to upgrade to Windows 8 or Windows 8 Pro, or to buy a new PC down the road.  Use PC TuneUp Maestro's Smart TuneUp feature to keep your PC optimized.
Organize.  Whether you are doing a migration or upgrade, it will be to your great advantage to get your files and personal settings organized beforehand.  Uninstall programs that you rarely use, get rid of unwanted "junk" files to create more free disk space, and remove personal and security related information that could potentially expose your personal identity over the Internet.  You can easily achieve all of this with PC Clean Maestro.
Wait.  When first launching a brand new OS with all the bells and whistles, there will be issues and difficulties that users face.  Microsoft will have to smooth out the bugs and maybe make enhancements along the way.
When you are ready… Microsoft will hopefully have all the kinks worked out for Windows 8 and you will have a smooth and efficient PC that meets your daily needs.