Something new always brings an element of excitement thrown in with a bit of apprehension.  Windows 8 is now available and it comes in three flavors.  This article shines some light on the versions offered in an effort to make them a little more familiar.  The latest versions of Windows 8 are: RT, Windows 8 (Basic) and Windows 8 Pro.  Here is a little about each.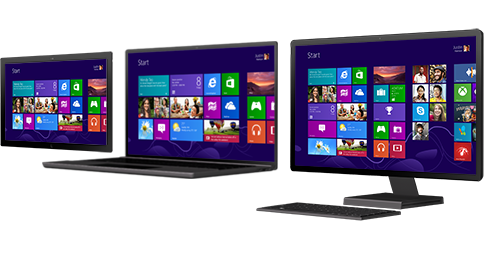 Windows RT
The "RT" stands for Runtime.  The first most important aspect anyone needs to know is that it is only available on tablets; in this case the thin and light PCs with extended battery life, designed for mobility, and are "touch enabled" (that is, they support touch screen functionality such as swipe, tap, pinch-and-stretch, and more).  As it is only available on tablets, this means it is not available as a separate download.  Instead, anyone interested will need to go to a retail store to try one out and test run the operating system.  The software that runs on Windows RT comes exclusively from the Windows App store.  It includes Windows Update to keep your system and apps up-to-date, and Windows Defender for virus and malware protection.
Features: Windows RT includes some different features than Windows 8 and some features that are not included. Read this official Windows RT FAQ for more information.
Windows Update and Windows Defender are always on and up to date.
Device encryption: advanced data protection to keep your information more secure.
The PC can turn on instantly with connected standby.
Microsoft Office Home & Student 2013 RT Preview with touch-optimized desktop versions of the new Microsoft Word, Excel, PowerPoint, and OneNote.
Features that are not include in Windows RT: Windows Media Player, Windows Media Center, HomeGroup creation (you can join an existing HomeGroup but you can't create a new one), Remote Desktop, and Domain join.
One comfort for those who like to use peripherals… it is mouse and keyboard enabled.
Windows 8 (Basic)
Windows 8 is the basic edition of Windows – the standard edition.  This is targeted at the typically consumer and provides all of the basic new Windows 8 features.  This includes: the Start screen with semantic zoom, tiles, Windows Store, connected standby, Microsoft account integration, Internet Explorer 10, and the Windows desktop among others.
Terms explained:
Semantic zoom: touch-optimized technique used by Windows Store apps for presenting and navigating large sets of related data or content.
Tiles: numerous square tiles each of which is connected to a person, app, website, playlist, etc.  Tiles light up when there is new information available.
Windows Store:  The central repository and download centre for Microsoft applications.  It opened on October 25, 2012 with 7,873 applications.
Connected standby:  This is a power management feature similar to the way you use a mobile phone: when the screen is on, you have access to the full power and capabilities.  When the screen goes dark, the system is standby: a low-power mode designed to extend battery life.
Microsoft account integration:  this is a single web service that you can sign into which was developed by Microsoft to enable the ability to log into many websites with one account.
Windows desktop:  For those familiar with previous version of Microsoft, getting adjusted to the new Windows 8 Start screen will be an undertaking.  For some it will be comforting to know that the familiar Windows desktop is easily accessible as a tile on the Start screen.
Windows 8 Pro
Simply stated, the Pro version is for more advanced users that use their computer for both personal and business use.  First and foremost – you need to know that it includes all the Windows 8 standard features.  It also includes: Remote desktop connectivity, File system encryption, Hyper-V, Virtual Hard Disk booting, BitLocker, Group policy, and more.
Terms explained:
Remote desktop connectivity:  This involves the ability to access applications and data on a computer remotely through the use of a network connection.
File system encryption:  This technology involves having files transparently encrypted (encoded) to protect confidential data from attackers with access to the computer.
Hyper-V:  This relates to platform virtualization and is associated with Windows Server.  Microsoft states that these tools can assist organizations of all sizes to realize cost savings and operational efficiencies.
Virtual Hard Disk booting:  A file format which represents a virtual hard disk drive (HDD).  This enables the user to interact with a virtual representation of what is typically on a physical hard disk, partitions and a file system with files and folders.
BitLocker:  An encryption feature for the entire disk.
Group policy:  A feature from Windows NT.  It is designed to control the working environment of user accounts and computer accounts in a network.
The new Windows 8 platform is heralded as the most profound shift the Windows platform has ever seen.  Being familiar with the features and functionality of each of these editions is fundamental in making an informed decision that suits your needs.  We hope this blog article has shed some light and will help you to be In-The-Know on recent technologies.