"A strong WiFi signal makes for a happy home," should be the new adage for the 21st Century. At least that's been my experience based on the turmoil my own home falls into when the WiFi is not working properly!
Here are some tips for improving the range of your home WiFi setup.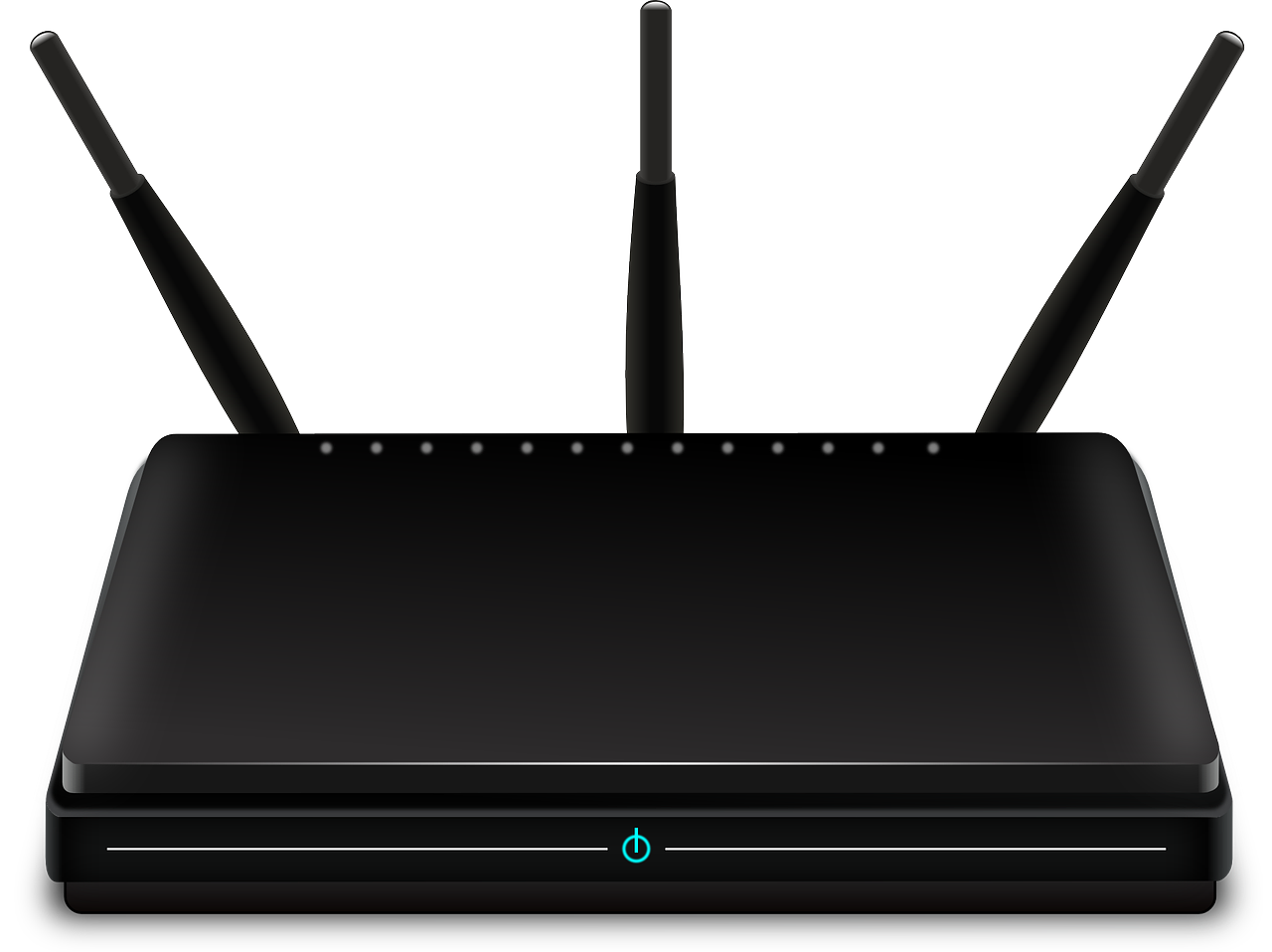 Note: This trick works best with a wireless router that has external antennas. If your WiFi router doesn't have antennas, we also provide tips on how to improve home WiFi signal in the 2nd half of the article.
Thanks to PC's, smartphones, laptops, tablets, iPads, iPods and other mobile gizmos, a strong WiFi signal has become a necessity for modern life.
Everyone in the family now depends on a mobile device to listen to music, binge-watch the latest TV series and communicate with friends.
Beware the WiFi "Dead Zone"
However, it's also a fact of life in the 21st Century that your home WiFi signal is not always reliable. There always seems to be one or two "dead zones" in the house where there is just no WiFi signal.
It's annoying for whoever enters a dead zone, and it's also a challenge for whoever is tasked to somehow solve the problem!
And, unless your hobby is wireless networking, setting up a wireless bridge or repeater is time-consuming and frustrating.
In today's edition of Tech Corner we have come up with a nifty solution for fixing WiFi dead zones.
How to Extend Your Home WiFi With A Soda Can
If you can believe it, all it takes to extend your WiFi signal is an empty soda can. This trick takes about two minutes to do, and only requires everyday household objects.
Note: as mentioned, for this trick to work, you'll need a router with an external antenna.
What You'll Need
A clean soda can
A pair of sharp scissors
A sharp "box cutter" utility knife
Some mounting putty
A router with an external antenna
Step 1: Prepare Your Can
Any clean, empty and dry soft drink can will do. The only preparation you need to do, apart from washing it, is to remove the tab.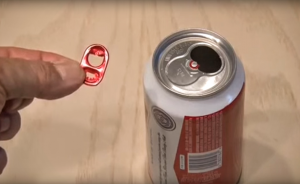 Step 2: Cut the Base of the Can Completely Off
You'll want to saw off the bottom of the can. You can do this with a box cutter or Exacto knife.
NOTE: Don't cut off the top of the can—the hole in the top of the can plays an important role in our homemade antenna.
Step 3: Cut Off *Most* of the Top of the Can
Using your utility knife, cut most of the top of the can off. Leave about two centimeters of can, right behind the hole in the top.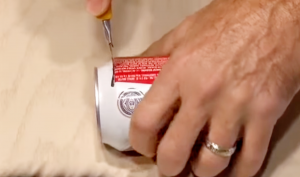 Step 4: Cut Open the Can
Cut along the middle of the can in a straight line, opposite to the piece of metal attaching the base.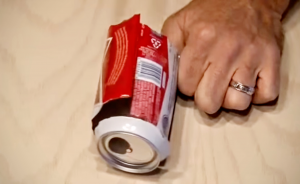 Step 5: Make Your Antenna
Being careful, open up the middle piece of metal by bending it until it vaguely resembles the shape of a radar dish.
Affix some mounting putty to the bottom and slide over the antenna of your WiFi router. If you have two router antennas, try making two pop-can boosters!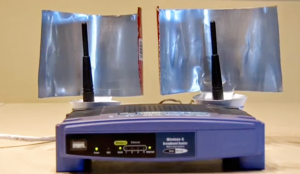 If you try this out, let us know how it works by sending an email to newsletter@compuclever.com.
More Tips for Improving Your Home WiFi Signal
Here are a few additional tips for improving your home Wifi signal:
1) Make sure your WiFi router is located in a central location
If you can, make sure the router is located in the center of your house, on a top floor. Radio waves best travel down and laterally.
2) Make sure the router is located as high as possible
The WiFi router should be located off the floor, ideally on a wall mount or high shelf.
Also, make sure there are no large items of furniture blocking the signal if possible.
3) Keep away from metal… and mirrors
Metallic surfaces, such as filing cabinets will affect your WiFi signal. Mirrors will as well.
Have a request for Tech Corner? Email me at newsletter@compuclever.com.
The Device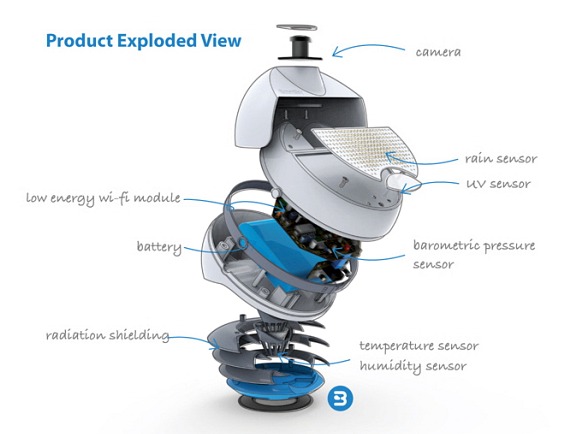 There are going to be some of our readers who are inspired by this weather sensor technology and want to take the step of buying an actual weather device for themselves. We covered how to assemble the device and now we will look at connecting it with the available software. First we'll review some of the features of the device.
A Serious Weather Station
For weather hobbyists, you will immediately recognize the value of the BloomSky device. It has sensors to constantly measure the temperature, humidity, barometric pressure, along with ultra-violet sun exposure and a rain sensor. It is built to withstand weather extremes and it can last 20 days on one battery charge, and it can be powered by solar or AC power.
BloomSky enables you to connect your device and share weather data with Internet weather service like the Weather Underground. Those who are serious about collecting weather data can trust BloomSky's industrial grade quality when it comes to withstanding the most severe weather conditions. We couldn't help but share this photo that was posted on Xiao's, BloomSky's CEO, personal blog. He proudly stated that the seemingly frozen device below is still powered on, functioning, and transmitting weather data!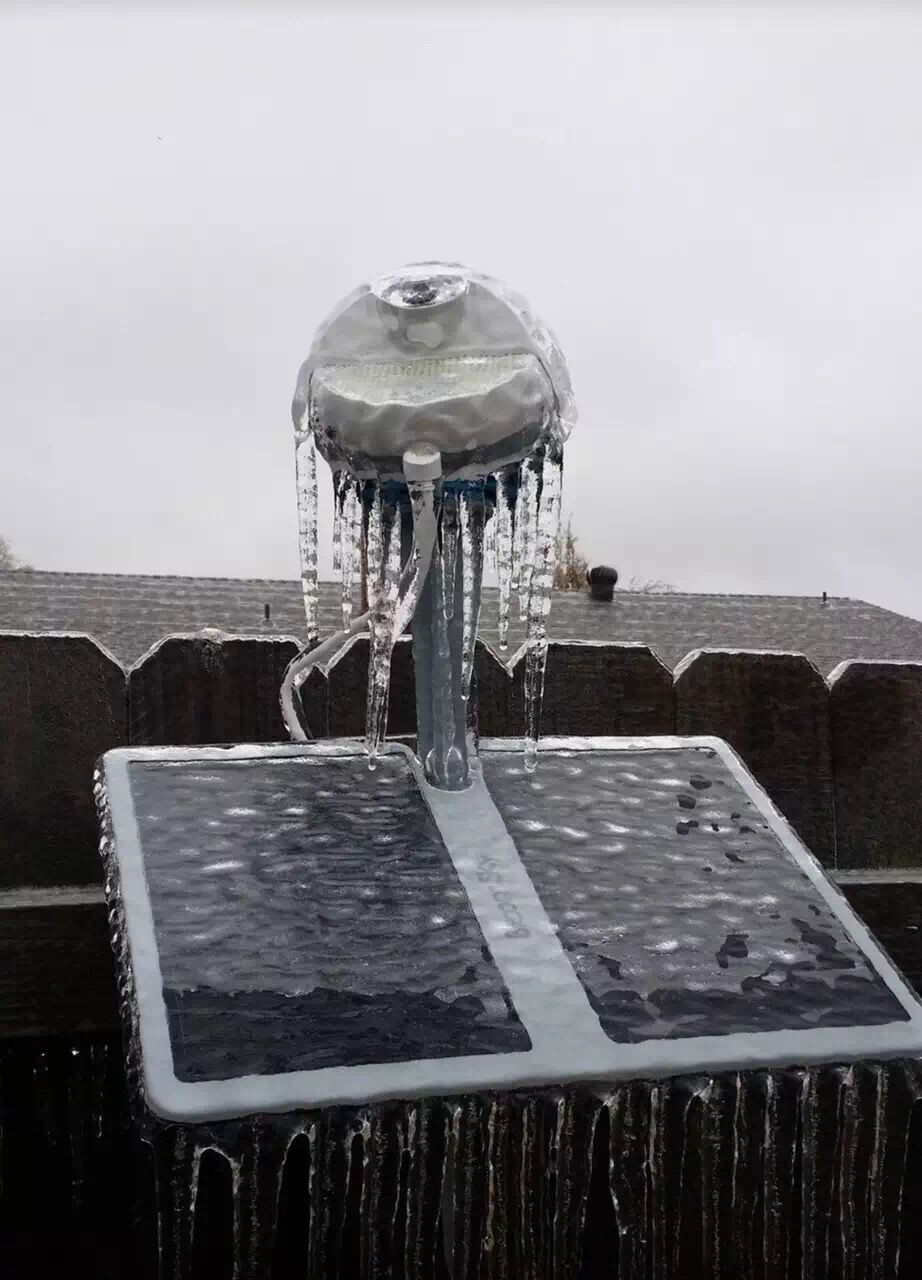 Dashboard – the Device Software
To connect to your device and examine the data that is now being collected, you can access the software known as the dashboard. Simply go to this link: https://dashboard.bloomsky.com/ using your desktop or mobile device. You'll need to create an account with a user name and password. Once your device is up and running for a day or more, you can view time-lapse captures of previous days' recordings using a calendar view to select the day you want to view.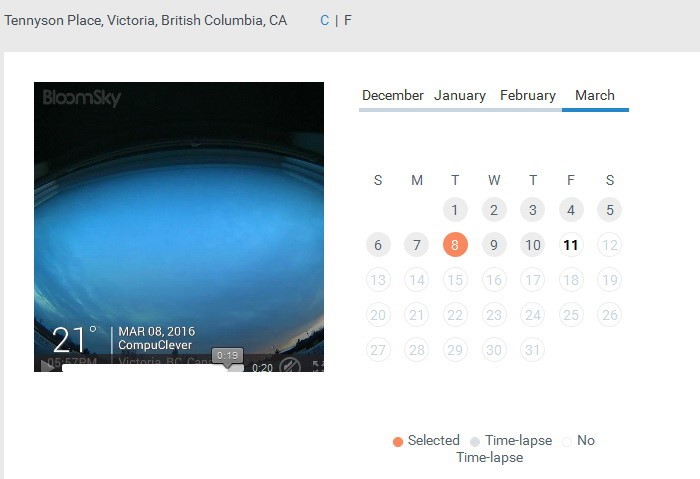 There is also a Data view with graphs that display the weather information you are taking from your location as can be seen here: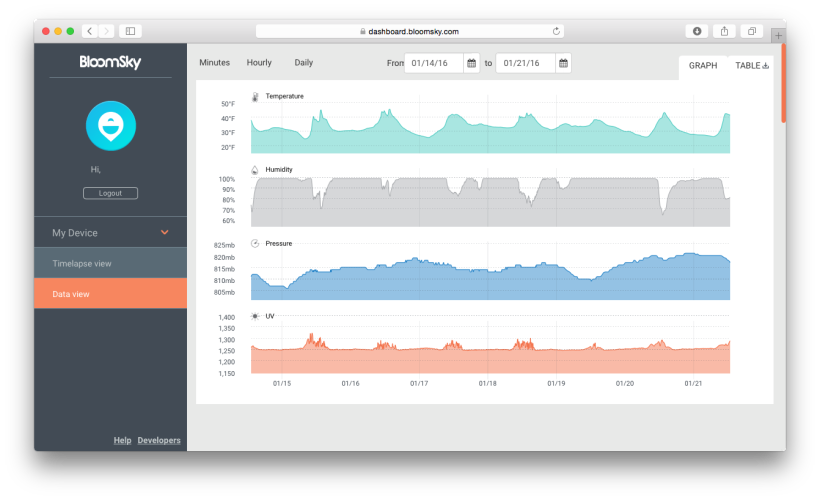 A Fun Device
For those of us who are not weather hobbyists, BloomSky is a fun device that allows you to connect with others in ways that you've never imagined before. The BloomSky device takes pictures of the sky every few minutes and has a fish-eye lens that is pointed upwards. The 170 degree ultra-wide lens can be adjusted vertically.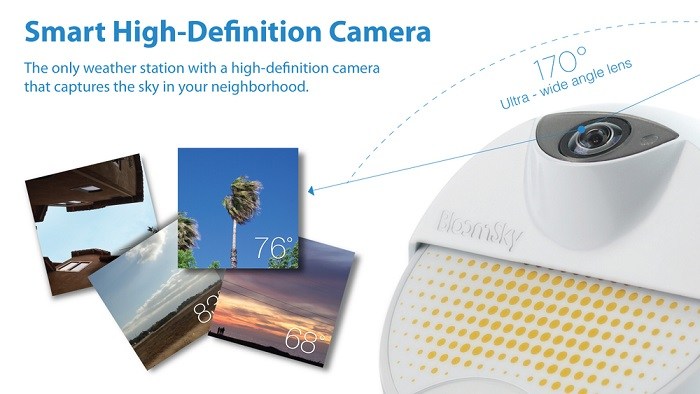 The devices are designed to forward images to the BloomSky website, which assembles the pictures and produces a time-lapse video on its cloud-based network. You can then check out the weather in another location for yourself and get a firsthand look at transmissions along with corresponding temperature measurements. So, by getting this unit, you are plugging yourself into a weather information network.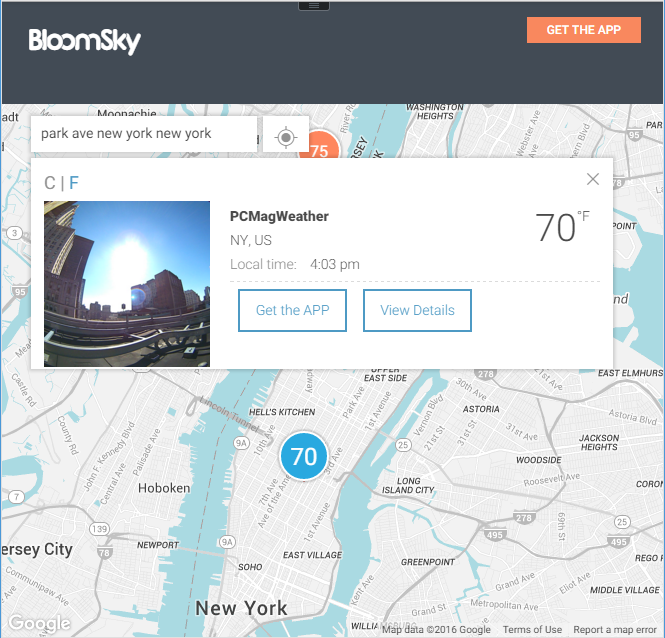 Furthermore, all of the information collected, including the time-lapse video generated daily, can be easily shared with the rest of the world including your family and friends who may be keen on admiring the weather you are enjoying. Along with the BloomSky website, sharing is also made easy through the BloomSky app, which supports mobile devices running on either the iOS (Apple App store) or Android (Google Play) platform. What's also amazing is that your friends and family can subscribe to your BloomSky weather station through the app and receive not only daily time-lapse videos but also "push messages" you send regarding important updates and alerts.
Our Tech Corner Evaluation:
Our Technical Support specialist Richard has this to say:
I have to admit that at first blush I was skeptical of the weather sensor device. It wasn't that I did not believe it could be accurate in its measurements or incapable of handling wet or cold weather, but rather the utility of such a device. That is always the acid test isn't it, what purpose does it serve?
For some people being able to check the weather conditions at home while they are away is valuable, but then you'd have to be away from home for long periods to justify it. So, I went to the BloomSky webpage to see if they could sell me on it.
One of the first things I came across was IFTTT technology (IF This, Then That). This refers to the ability to use the information gathered from the device for a purpose. Simply put, if a condition arises than a corresponding action ensues. That is to say, you would be able to set your home thermostat according to the temperature changes. "For example, you can have BloomSky trigger your connected thermostat to turn on (or off) when an outside temperature is reached." We see other options are available as well including have your home thermostat adjusted remotely using a device such as a Wi-Fi thermostat controller. Or, you could simply contact a friend or neighbor who could adjust it for you. There is also the option to have it record data and present it to you. Getting an idea of how much rainfall you had locally or overnight or tracking freezing temperatures could be very useful for farmers and gardeners.
As global weather and forecasting becomes increasingly variant and harder to predict, the value of this technology could be even more salient. BloomSky has also placed considerable effort toward establishing a weather network community. They have a Facebook page and anyone can join in regardless of whether you have the BloomSky hardware.
Recommendation and Offer
We feel that this is really the definition of an emerging technology, and the impact is hard to predict, but we can easily see value for such devices as it relates to automation of homes, for people to use in their businesses, and to assist with travel plans. In reading their blogs we also see opportunities to learn about how weather affects people in different vocations and walks of life. Certainly handling the device for a couple of days, and seeing what is being done with it has been an education for our team.
An offer for our readers:
For those who are interested in joining the BloomSky network, BloomSky is currently offering an unprecedented special promotion to our readers. Simply follow the link and use coupon code: COMPUCLEVER to get up to $40 off when you purchase a solar powered BloomSky weather station.
Disclaimer: CompuClever will not financially benefit from any purchase that may result from this article, which serves as a purely independent review.
With the BloomSky device the sky may really be the limit!
We hope you enjoyed our volume of the newly minted "Gears and Gadgets" column. We will bring more creative and smart high-tech products to you on a regular base. If you have any specific interest that you would like us to cover, simply send us an email to: newsletter@compuclever.com