The update is so massive because, to mark the anniversary of the release of Windows 10 in July 2015, Microsoft is pushing out updates to what seems like every program and service in Windows 10.
If you are a Windows 10 user, or are thinking about downloading Windows 10, there is something you need to be aware of: the new Windows 10 Anniversary update is scheduled to be automatically downloaded onto your computer sometime in the next few days, and it's going to be massive. Depending on the speed of your computer and your internet link, this Windows 10 update may slow everything down to a crawl.
So be warned!
Why is the August 2016 Windows Update So Big?
The update is so massive because, to mark the anniversary of the release of Windows 10 in July 2015, Microsoft is pushing out updates to what seems like every program and service in Windows 10:
Some changes are cosmetic, such as a new login screen.
Other updates this August will change how the system works: the Cortana assistant will now available on the lock screen.
Some updates are based on feedback Microsoft has received, such as a new way to save Favorites in the Microsoft Edge browser.
In short, there is something for everyone in the massive Windows 10 anniversary update.
Never a Better Time to Upgrade to Windows 10?
If you haven't already updated your computer to Windows 10, the Anniversary update includes every update to Windows 10 over the past twelve months. This "one big update" saves not only valuable disk space, but also a lot of time. You don't have to worry about downloading and installing every Windows patch from the last year.
Internet Explorer 11 as well as the new Microsoft Edge browsers have both been updated for reliability and security. Mobile devices receive updates to address issues found with them since the release of Windows 10.
If you want more information about the Windows 10 Anniversary update, ZDNet has an excellent summary. However, here are a few updates to Windows 10 that have caught our eye:
Potentially Confusing Changes to the Windows Start Menu
The Windows 10 Start menu is changed. This is the pre-Anniversary update version of the Windows 10 Start menu: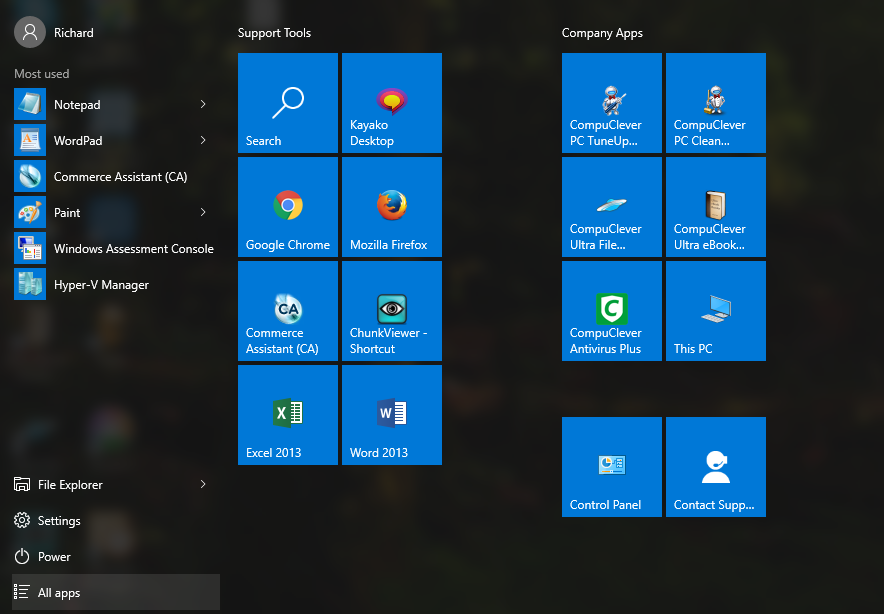 Following the update, the Windows 10 Start menu will look like this: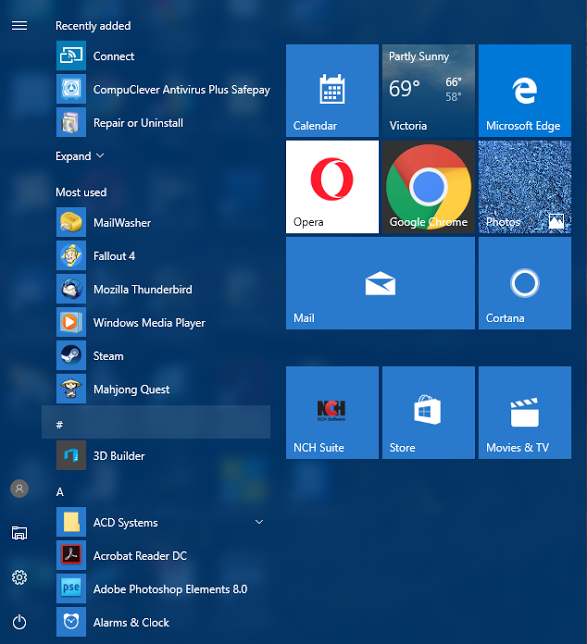 Basically, you now see the "All Apps" already selected, while the "File Explorer," "Settings," and "Power" are only shown as icons. The Most Used apps area is now at the top of the applications list.
This change could be a little confusing until you get used to it.
Virtual Assistant Cortana Becomes Even More Powerful
Just as iPhone users have Siri, and Android smartphone users have Google Now, Windows users can rely on their own virtual assistant, Cortana. Thanks to the Anniversary update, Cortana can now can communicate with your Windows device or even your Android phone. This means notifications from your phone can be displayed on your Windows PC—you can get notifications if your phone is running low on battery.
Microsoft Edge Gets Extensions
"Edge", the new, stripped-down browser Microsoft introduced a couple of years ago, now has the ability to add extensions. Users of the Firefox and Chrome browsers have been able to add extensions such as AdBlock for years, so hopefully Edge will become more powerful thanks to this update.
The Anniversary update has also added Cortana to the Edge browser, much like Google's Chrome browser supports voice commands and voice search.
"Windows Ink"
In terms of actual new functions added to Windows, Microsoft has added something called "Windows Ink." This is an application for stylus users, and makes it much easier to sketch and take notes on any touchscreen device running Windows 10.
Biometrics Now a Part of Windows 10
Also new to Windows is "Hello," a biometric agent that uses facial and fingerprint recognition to verify access to your computer. Of course, your computer will need to have a camera or fingerprint reader built into it to actually use Hello, so if you do not have these installed already, this is not something that will affect you.
However, the Windows 10 Anniversary Update Ignores Some Big Problems
The Anniversary update doesn't address every problem Windows 10 users have been complaining about for the past year.
For example, if Windows 10 security issues were a concern, Microsoft has done nothing to address your fears. Notably, Windows 10 will still log what you do on the computer and send this usage information back to Microsoft.
Some Windows 10 Users Can't Log Into Their Computers Following Anniversary Update
As well, the Anniversary update itself has some bugs that need to be updated: some users people have discovered they cannot log into their systems once the Anniversary update is installed. The solution? Roll back to a previous install point—which in some cases means a previous version of Windows! While the number of people reporting this disastrous issue is still pretty small, it's a big deal if it happens to you.
To protect yourself, if you have not been updated Windows 10 yet, enable the System Restore to generate a save point you can return to should the update not work. Instructions on setting up System Restore in Windows 10 can be found here.
What's the Verdict on the Windows 10 Anniversary Update?
It is a bit early to provide any meaningful insights about just how good this update is. The main thing we wanted to do was to give you a heads-up about what is being offered by this download, and give you that warning about backing up your system. We felt these tips were especially important, since Windows 10 updates are not optional—you have to install them.
Hopefully the items mentioned here are useful, and if you have any question, or want to let us know about your own experience with the Anniversary update, leave us a comment below.
Charles Edward frequently reports on the latest developments in Microsoft and Windows software products.