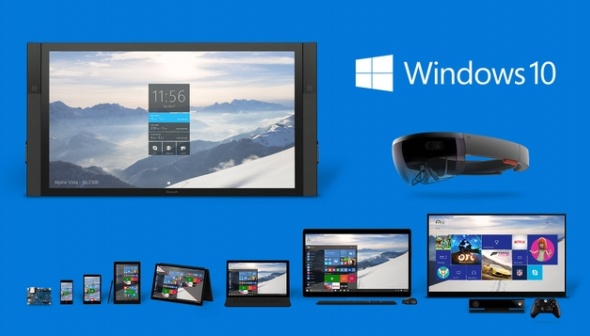 Microsoft is coming out with a new operating system.  There is a lot of "love" going out for this release.  That is to say… much of the feedback is that users love the features.  And the icing on the cake, like Apple OS X and mobile operating systems, Windows 10 upgrade is free.  As many of our readers know… free sometimes comes at a cost.  We will examine the fine print and give our recommendations.
So let's begin.  We won't go into all the details of the offer but we will highlight the most important ones.  We encourage you to go to this page to find out more if your questions are still left unanswered.
What is it?
As Microsoft states:
"Windows 10 is yet another radical change from previous versions, and it's a huge Microsoft effort to recover after the critics on Windows 8. The new operating system brings a brand new user interface, a new Start menu, Cortana, Continuum, and some other features. This makes the operating system new again, but more familiar to customers upgrading from Windows 7 or Windows 8. Also, Microsoft is making its new operating system a single piece of software that with little modification can easily run across devices, including PCs, tablets, phones, and game console."
It is for a full upgrade if you have the right OS.  "Windows 8.1, Windows 8.1 with Bing, Windows 7 Starter, Windows 7 Home Basic, and Windows 7 Home Premium will upgrade for free to Windows 10 Home.  While Windows 8.1 Pro, Windows 7 Professional, and Windows 7 Ultimate will upgrade for free to Windows 10 Pro. (This promotional offer excludes the Enterprise version.)"
To be clear, users have to be running a valid version of Windows 7 Service Pack 1 or Windows 8.1 Update.  So, you may have to update your existing OS before getting Windows 10.  Also… you cannot create a dual boot install where you can keep your existing OS and choose to boot into Windows 10.  The update requires installing on top of a Windows 7 or 8.1 OS.
When?
The offer begins July 29th, 2015 and expires July 29th, 2016.
Prior to July 29th you can make a reservation to have Windows 10 installed.
On July 29th "Microsoft will begin notifying devices that there is a free upgrade available.  Then users will see the 'Get Windows 10' app, which they can use to schedule the upgrade."
How?
As of June 1st, Microsoft began offering users the option to reserve a copy of Windows 10.
"Qualifying devices running Windows 7 and Windows 8 will start receiving the 'Get Windows 10' app icon in the system tray.  From the 'Get Windows 10' app, users can check if their PC is compatible and reserve their copy of Windows 10. Then when the operating system releases users will get notify [sic] automatically. "
After July 29th, "Microsoft will begin notifying devices that there is a free upgrade available. Then users will see the "Get Windows 10" app, which they can use to schedule the upgrade."
What Will You Need?
As stated you need to have a qualified device; that is, one running Windows 7 SP1 or Windows 8.1 Update.
Note:  You can check out your System Information by doing the following:
1.Open up
PC TuneUp Maestro
and click About (located at the top-right corner).
2.click the "Get My System Information" button.
A window appears with information including: OS, Processor type, RAM, and more.
The minimum system requirements for Windows 10:
Processor: 1 gigahertz (GHz) or faster processor or SoC
RAM: 1 gigabyte (GB) for 32-bit or 2 GB for 64-bit
Hard disk space: 16 GB for 32-bit OS 20 GB for 64-bit OS
Graphics Card: DirectX 9 or later with WDDM 1.0 driver
Display: 1024×600
How much?
For users who don't qualify for the free upgrade, or for those who want to build a new PC, or want to run a dual boot system… you will have to pay the full price.  The retail pricing information is as follow:
Windows 10 Home will cost $119 (US dollar) | (UK £99.99) | (Eurozone €135)
Windows 10 Pro will cost $199 (US dollar)
What Is Missing?
Microsoft lists the following items as not being included in Windows 10:
Windows Media Center.
DVD playback capability.
Windows 7 desktop gadgets.
Windows 10 Home won't be able to opt out from the automatic update, but Windows 10 Pro and Windows 10 Enterprise users will have more update control.
Solitaire, Minesweeper, and Hearts Games that were included as part of Windows 7 will be removed from Windows 10. However, users will be able to download the new "Microsoft Solitaire Collection" and "Microsoft Minesweeper" from the Windows Store.
USB floppy drivers will be removed. You'll need to download the drivers from Windows Update or the manufacturer's support website.
Windows Live Essentials and OneDrive app will be removed and replaced with the new OneDrive integration.
Why?
There is talk that this is the last major Microsoft OS:
"We're not saying that there won't be any more versions of Windows, but Windows 10 is the last big release we're accustomed to seeing. Now, Microsoft is moving toward a new update model called 'Windows as a Service.' This means that no more big versions of the operating system will be released. Instead, the company will push new updates and features as they become ready."
There is also the advantage of having the majority of users running the most recent version which includes being able to provide support and further updates to their user base. Microsoft states that they are
"…opting to make Windows 10 a free upgrade to speed up the software adoption. This will allow developers to bring modern apps and services to more customers and to reduce the fragmentation of Windows on the market. Having everyone on the same version of the operating system will help to build better apps and services and move forward at a healthy pace."
Concerns?
Microsoft assures us that documents and files are preserved.
They also state it is fast and easy; it will take somewhere between 20 minutes and an hour.
However, it's possible that some of your applications will not work; "…some applications and settings may not migrate."  They suggest:

"Before the upgrade, you have to remove some of the programs that came pre-installed as part of the factory installation. The "Get Windows 10" app will help you to identify some of these programs that may cause issues."

Windows 10 Home users will not have the option to defer updates.  Instead, updates will be downloaded and installed automatically as soon as they're available.
Will my current antivirus work with Windows 10?
Microsoft states: "Probably not. Microsoft recommends installing an antivirus that is compatible with Windows 10. You'll also want to remove your current antivirus before upgrading. If you leave your antivirus running, the upgrade process will check if the software is compatible. If it's not, it will get removed and Windows Defender will be enabled by default. If it's compatible, the upgrade process will make sure it gets updated to the latest version of the latest update."
Roll Back / Go Back:
"You can roll back to the previous version of the operating system from the recovery partition or by using the recovery media that came with your system. Alternatively, Microsoft will offer the 'Go back to the previous version of Windows' option in the Recovery settings. The setting will only be available when the system was upgraded from Windows 7 or Windows 8."
Our Recommendations:
If after reading the information stated here you feel positive about what is being offered we suggest you take advantage of the free offer.  We feel that Windows 10 is an improvement from Windows 8.  Windows 10 has made several noticeable improvements over fundamental UI designs and interaction by bringing back the classical Start button and making it easier to launch both desktop applications and tablet apps.
Those of us who are traditional Windows users will be more pleased with Windows 10 compared to the initial confusion we experienced when we first used Windows 8.  With Windows 10 the emphasis is on desktop software with seamless integration of tablet apps.  CNN's review of Windows 10 provides a quick snapshot of what's new in Windows 10.
Backup
We suggest and fully agree with Microsoft – if you do choose to go for the free upgrade, make sure to back up your PC.  We suggest you back up your files and data as well as other items not easily replaced such as contact information (email address and the like).
For those running previous versions such as Windows XP or Vista, before you consider upgrading to Windows 10, we recommend you evaluate if your existing PC hardware will be enough to meet your daily computing needs.   You will have to make sure you meet the minimum system requirements shown above.  Most likely, you have a PC that's more than 5-10 years old.  But it could still function well and provide service as intended.  If not… it could be time to think about acquiring a new PC with better hardware and possibly getting Windows 10 pre-installed instead.  Check your PC dealerships for details of Windows 10.
For those users who qualify and are on board, you can get instructions on how to reserve your free upgrade here: http://www.microsoft.com/en-ca/windows/windows-10-upgrade
CompuClever Apps:
Let's not forget the important part… all CompuClever products are Windows 10 compatible.  This includes our CompuClever Antivirus PLUS which will be launched soon.  So please rest assured that we will continue to be available to serve your needs in providing a safe and optimized PC no matter what OS you are running now or in the future.
In Summary:
Generally speaking, the Windows 10 upgrade comes with enhancements to both PC performance and onboard security.  We are encouraged that Microsoft has been able to optimize their core OS architecture and design as well as improve on safety and security measures.  If you do qualify for the free upgrade and can navigate past some of the shortcomings we have presented here, we feel you stand to benefit from this offer.  It does mean jumping in with both feet.
In an upcoming article we will be covering the theme of protection and security.  Until then… if you have some ideas of topics you would like us to cover or have feedback to offer, email us at: newsletter[at]compuclever.com