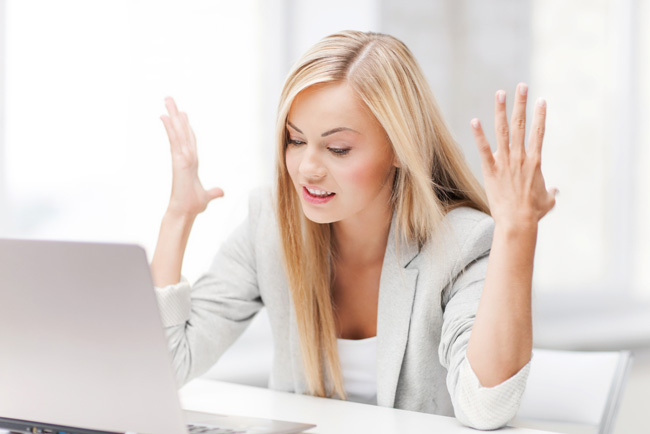 Why is it that asking for help can be an overwhelming obstacle?  The reality is… there is a certain shame that comes from seeking help when we don't know something.  No one wants to admit to being lost and needing directions and no one wants to feel like they are not smart enough.  Plus, we all want to join the ranks of DIY – Do It Yourself.  To be real, this takes assessing the situation and knowing if the issues are outside our expertise.  When we are simply spinning our wheels, it's time to take it to the professionals.  The next task is to get good and reliable service that will lead to a real solution.  This article segues from some of our recent articles that focus on assessment of PC problems.  We'll cover this in brief and provide links.  The main impetus for this article is to shine some light on PC repair technicians that are not trustworthy and to strongly emphasize how our users can benefit from available tools and services including those offered by our CompuClever support team.
Here is the article menu du jour:
Background:  We'll start with the background story of one man's experience with a not-so-honest repair shop.
Assessment:  How to assess what's up with your PC.
What to Do:  Get the right tools and utilize the services that are available.
Repair Shop Pointers:  When all else fails and you need to take your PC to a paid professional.
Background
In today's world, certain buzz words can cause a great deal of stress and concern such as "terrorism" and "virus" (in this case PC virus or "malware").  We all look on those responsible for the creation of these as being deplorable.  And then there are those that reap a reward by taking advantage of the fear generated from these malevolent and disruptive acts.  In our example we highlight a true case that came directly to us when a PC repair shop accused our software of infecting a user's PC.  Let's start with the details.
In the spring of 2013 we received correspondence from a Consumer Protection agency on behalf of a private individual who had been charged a fee for services incurred by a PC repair shop (name withheld).  The specifics begin with a frustrated man who was unable to get an online connection and decided to take his computer to a repair shop.  The technician there said he needed a new hard drive in order to back up his data and that they would need to reinstall his operating system.  This was all done to the excessive tune of $340.
What strikes us as interesting up to this point, and we will put aside how purchasing an external HD can be done fairly cheaply and how it was likely unnecessary to reinstall the OS… what really is of concern is that it could have simply been something related to configuring his online connection.  What is the most outlandish aspect of this story, and how it specifically came to our attention, was that the repair technician had stated that CompuClever Systems had purposefully placed malware on his computer by planting a cookie without the user's knowledge or consent while he was online.  There was also an accusation that CompuClever software was on his system by means of a silent install.  In the end, this individual put his trust in the repair shop technician, made all these changes to his system and paid a fee far in advance of what was required.
Assessment:
Let's just say upfront – there are grey areas when determining causes of PC issues.  When it comes to examining symptoms it is a challenge to determine if the culprit is a virus or something else.  Certain conditions such as a slow performing computer, popup messages, applications slow to open, are common to both malware related causes or items referred to as PUP – Potentially Unwanted Programs.  The best thing to do is to retrace your steps and find what the most recent changes were leading up to the issue.  If you can identify some software that was installed on your system you can then begin to examine it more closely – was it from a trusted source or is it a known virus?
Trusted Source: If you have done an examination and find that there are PC cookies on your system be advised – this is not an indication of a virus or malicious program.  As our readership is aware from our previous article on this matter, it is not possible to infect a computer using PC "cookies" – they cannot run programs that deliver viruses or malware to your PC and they cannot access your PC.  We recommend removal of cookies from unknown sources and keeping those from trusted sources.
A definite way to tell the source is a trusted one is to check credentials.  For example, CompuClever Systems is certified as a Microsoft Partner and an Intel Software Partner.  As such explicit user consent is required to install software certified through Microsoft and Intel.  In order to get this kind of Microsoft and Intel certification the software must not contain any virus, malware, or other forms of destructive code.  This means the software undergoes rigorous and thorough review.  Not only does this level of software require user consent to install, all certified software must completely uninstall at the request of the user and at his/her sole discretion without any confusion or any complications.  So… if the disgruntled user in our background story was in the least bit uncertain about CompuClever software he could simply uninstall it.  Or, he could have contacted us and we could assist him in uninstalling it.  What other software companies can uphold this level of support and service?
It is vital to use proper discretion when installing items to your PC.  As we have pointed out in previous articles there are cases where you want to install one program and you end up getting a bundle of apps some of which include annoying popup messages.  Reading the fine print as you go from one page to the next during the install process is critical.  In most cases you have the option of selecting only the program you want to install.
Virus / Malware: Without going into too much detail we will revisit this area briefly and encourage you to look more deeply into the differences between virus/malware and other PC annoyances and unwanted programs.   For more information on this see our article: Virus vs PUP. We also have covered "foistware" – the annoying software that has been forced onto your PC.  See this article for more information.
Basically, a virus is a type of malware (malicious software program), that is installed on your system without consent and will replicate itself in whole or in part.  It behaves in a manner that can be thought of as an infection by targeting one or more areas of your PC.  You can often expect to experience harmful activities or negative impacts such as monopolizing system resources (disk space and CPU), gaining access to private data, sending out spam content, corrupting data on the system, and displaying messages on the screen (popups).
The following are definite and true characteristics of a virus/malware infection:
Inability to remove cookies or software from a computer system.
PC security software and/or firewall become disabled.
Computer starts acting on its own.
If something has gotten onto your system without your knowledge or consent you have some options available to you: find a solution online, try out a trusted virus removal product, get available technical support (by phone), or… take your PC to a repair shop.
What to Do:
Free Solutions:  Do you have anti-virus protection for your PC and is it active?  Recent Windows operating systems provide anti-virus protection (see article: Virus vs. PUP).  There are also other third-party anti-virus tools available and some are even free.  We encourage you to go online and research this by using customer reviews and finding out whether there is a solution that meets your needs.  We are confident that in the very least anti-virus tools will not steer you in the wrong direction by placing the blame on legitimate software.  The shortcoming here is that they may not get the job done that is specific to your problem.  If so, you can take it to the next level… get some support that is available to you.
Available Support:  CompuClever offers a TuneUp Service for performance related issues as an alternative to taking your PC to the repair shop.  What you get is a one-on-one direct PC tuneup service through phone and remote desktop connection.  With remote desktop connection we are able to view and run your desktop environment from our offices to assist with your issues.
Note: This is a free service offered to our full license users.  We will also be offering this to any and all PC users for a fee so as to assist with solutions related to PC performance.   We emphasize here that our service is focused on PC's that perform poorly and require optimization – at this time we do not repair PC's suffering from virus/malware infections.
This service is conducted by our senior technical support specialists and our aim is to solve your PC performance issues and enrich your experience and knowledge of our software solutions with our assistance.  The list of symptoms and issues we address include the following:
Uninstall unwanted programs:
Review installed applications with you the customer.  Research and remove unwanted or suspicious applications.
Remove junk:
Use PC Clean Maestro's scan to remove files considered junk that clog your PC.
Optimize startup and shutdown:
Review the StartUp Manager and disable unnecessary or unwanted startup apps.  Use "System TuneUp" from PC TuneUp Maestro to optimize both StartUp and Shutdown speed.
Remove browser add-ons:
Review the add-on list(s) for the default browser and disable unnecessary or unwanted add-ons.  This could result in the removal of annoying popup messages.
Reset and optimize browser settings:
Reset your browser to factory default settings.
Registry cleaning:
Use PC TuneUp Maestro's registry cleaning function to clean and optimize the registry.
Registry defrag:
Defrag and optimize the registry using PC TuneUp Maestro's registry defrag feature.
Hard Drive defrag:
Perform a deep defrag on your hard drive using PC TuneUp Maestro to free up space and improve PC performance.
Privacy and security scan/clean:
Use PC Clean Maestro to clean privacy and security items.
System and Internet optimization:
Use PC TuneUp Maestro's System & Internet Optimization functionality.
Check and ensure Windows Update is turned on:
Check to ensure that the mechanism is turned on so you receive Windows updates.
If your PC issues are outside our scope of items listed here we will give you our recommendation of taking your PC to a computer shop for hands on repair.  We would also give advice on options related to necessity of repair service and whether the cost of repair is reasonable versus purchasing new.
PC Repair Shop:
Be aware – PC repair shops can rip you off!  An easy way to make a quick buck as with our example in this article is to take advantage of a situation where it is difficult to know the root cause of an issue as well as the actual repair effort that went into the fix.  As with any professional that gives you advice and offers their service, you have to ask the right questions up front before any work starts.  Here are the questions you need to ask:
How much do you charge per hour?
How many hours do you estimate this will take to fix?
Do you guarantee your service?
If you run into difficulties can you call me ahead of time to get my approval?
Can you save my data?
What you should expect to get in terms of answers are:
Cost per hour: somewhere in the range of $50 – 100 per hour.
Time it takes: somewhere within 2-3 hours.  They may need to actually see your PC beforehand but they should give you some estimate of time.  If not – do not employ their services.  If they do need more time for repairs then agreed upon, make sure they contact you ahead of time and get your approval.
Guarantee of service: Yes.  Somewhere in the range of 30 – 90 days.
Call for approval when faced with situations that are beyond the agreed estimate: Yes.
Save data: Yes.  In extreme situations where the PC cannot be salvaged and the files can be accessed, they can be saved to external storage.
Other tips:
Keep in mind that you may have to pay a minimum fee – usually the first hour – just for them to look at your PC.  It's worthwhile to check into this as well.  Also, check to see what the reputation of the company is beforehand.  AND, as with any professional services – get a second quote for purposes of comparison.
Note: After you get an estimate take a step back and think.  How long have you had your PC/laptop?  What are the advantages of repairing this versus buying a new one?  Keep in mind that entry level PC's and laptops are becoming lower than $500.  And with entry level computers we are talking about specifications that exceed what was offered three years ago!
In Summary:
At CompuClever we are committed to creating PC utility software that improves the performance of your PC and we also offer support designed to address PC issues related to performance.  You can save yourself time, money, and headaches by looking for solutions that address your PC issues rather than getting stuck with a bill from a disreputable PC repair shop.
We will continue to provide story lines like this that benefit all of us and we will describe them in a manner that is within reach of everyday computer users.  If you have some ideas of topics you would like us to cover, email us at: newsletter@compuclever.com