When surfing the net we rely on our browser. In this article we focus on how to address Internet Explorer performance issues. This is a frustrating experience common to many computer users. We will look at potential causes and attempt to rule out anything that may be less likely but needs to be examined. We then focus on what is a common experience for those that have run IE for some time and have collected a few "add-ons" during their surfing adventures.
Getting to the Source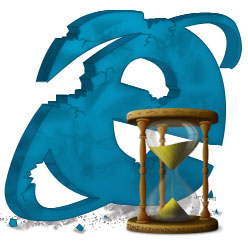 There are several potential causes for a slow browsing experience.  The plan is to identify the symptoms and then to systematically go through potential causes.  We will attempt to rule out the ones less likely to be crippling your IE browser experience but are potential culprits all the same.
What are the symptoms?  It could be you have been facing a number of IE browser symptoms that indicate poor Internet browsing health.  These could range from: slow startup, slow downloading of pages, crashes, and more.  We can go through these one at a time.
Internet speed:  A slow connection to the Internet means slow browsing speeds.  But is it the Internet connection or the result of the browser?  Continue reading...