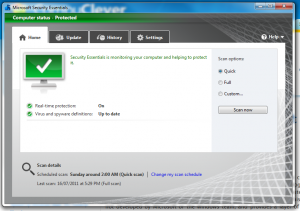 Sooner or later we all have to remove virus problems or malware from our computer. It's part of  the ongoing battle being fought between Microsoft and other technology companies and a shadowy network of hackers all over the world. To protect against computer viruses and other threats, most people choose to install a third-party "anti-virus" software. This software is typically not developed by Microsoft or the Windows team, and provides a layer of protection for your system by examining all downloads, all the time.
This amount of activity can really slow things down, and most people will really notice the effect of an anti-virus program on their system.
There is, however, a way to speed up your computer.
Microsoft Security Essentials, Microsoft's free anti-virus and malware protection software integrates seamlessly with XP, Vista and Windows 7. Moreso than other anti-virus programs, Microsoft Security Essentials run quietly in the background alerting users only when there is an action for them to take. Most importantly, it  limits CPU and memory usage, resulting in less impact computer performance and speed.
This means opening documents and browser windows, or loading search results can become noticeably faster. So, Microsoft Security Essentials offers Windows users real-time virus, trojan and malware protection without slowing the system noticeably. Continue reading...