We've mentioned before in previous articles how there are some companies of poor repute that offer "free" stuff.  But what you actually get is something not entirely free.  At best you get a free time trial of the product; at worst you get a free app bundled with a bunch of add-ons that you didn't want resulting in a clogged system with popup ads or other system modifications you didn't ask for.   CompuClever provides applications that have some functionality enabled for you to try for free.  If you want the full program you can upgrade.  There are no tricks or deceptions.  We want you to try our products and see if they meet your needs.  As you do have one of our paid programs we encourage you to look at our entire application suite and try out anything that looks of interest.
CompuClever offers four programs including: PC TuneUp Maestro, PC Clean Maestro, Ultra eBook Reader, and Ultra File Opener. We will provide a description of each product, introduce what each product is capable of, and highlight the free functionality that is available with that product.
PC TuneUp Maestro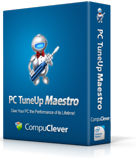 PC TuneUp Maestro is the most advanced suite of PC maintenance software tools available. Continue reading...