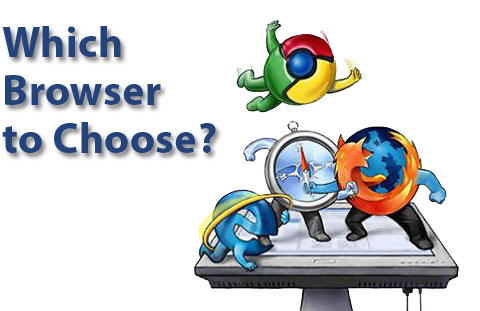 There are two main themes to present – choice and browser clean up.  As for choice… not all browsers are created equal.  Most all of us start off with what comes with our PC – Internet Explorer.  For some people, this is the only choice they know.  While all browsers have the ability to access your favorite sites and create bookmarks, there are very real differences between the top most widely used browsers.  This could be the time for you to look into the options.  As for browser clean up, we have new functionality to roll out with our PC Clean Maestro application.  As we are well aware, browsers start out with the basics and then, through the installation of extensions, they can get bogged down or in some cases are altered without our approval – most frequently, our homepage or search engine changes.  It's time to take charge and have your browser function as you would have it.
Here is what we will cover:
Components:  We'll start with a breakdown of the components.
Top Picks:  We'll look at the top three browser candidates.
Our App:  We'll describe how you can make full use of our latest release of PC Clean Maestro.
Without getting into too many of the details and specifics of this technology we will point out some basics.
Components
We will focus on components related to what we see when we bring up our web browser, namely the user interface.  We will also talk about the items that are referred to as "extensions" that can be added to a browser after you have installed it.
Typically the user interface (UI) consists of three areas:
The toolbar area at the top.
Main viewing area sometimes referred to as the viewport.
The status bar at the bottom.
The toolbar is used for navigational purposes as it has buttons such as back, forward, refresh, stop, and home (to get you back to your homepage).  It also has an address bar so you can type in a web address and you likely have a search bar to enter in words that can bring up a list of applicable web pages to the subject you are interested.
Two Most Frequently Altered Areas of the Browser: We get a lot of feedback and reports of how alterations have been made to the Search engine and the homepage.  The Search engine is designed to search for information and content on the Internet.  Examples include Google, Bing, Ask, Yahoo! Search and the like.  These are sophisticated programs that crawl the web and quickly provide results of your inquiry.  A homepage is the page you first see and want to access when you open your browser.
All users want to make a choice of a Search engine and homepage that they are both familiar with and meet their needs.  It becomes all that more frustrating when installing something that modifies these areas of your browser without consent.  We will show you how to return your browser to its default settings in a later section of the article.
Extensions: Components that can be added to the browser to increase functionality are referred to as extensions.  These can be in the form of toolbars and other add-ons or plug-ins.  Examples include toolbar extensions to provide some specific functionality such as web searching using a specific search engine, better access to installed applications, or providing convenient links or categorizations of media sites.  In some cases they can provide extra functionality as with Ad blockers that block ads on the sites you visit and terminate items that collect and send your data.  The challenge with all extensions is identifying what each of these are, making absolutely sure they are from trusted sources, and knowing that they are not bogging down your browsing experience.
Top Picks:
Google Chrome came into the browser fray in 2008 and this brought about new advances in browser technology in terms of speed, standards, and design which forced the other players to catch up.  And catch up they did.  One review by PCMag put the independent open source Mozilla Firefox at the top of their list for best browser:
With a beautifully redesigned interface, excellent performance, thrifty memory use, helpful browsing tools, and leading customizability…
[1]
But the "best" is a matter of preference and to a large extent will depend on your needs. The three most commonly used browsers are: Google Chrome, Mozilla Firefox, and Microsoft IE.  These take top honors and we can focus our attention on them.
Most Popular:  In terms of popularity, at this time Google Chrome ranks number one, with Mozilla Firefox second and IE in third place.[2]
Speed: Most reports[3,4] related to speed (startup and web page load times), put Chrome at the top followed by Firefox and then IE.  It is important to note, no browser reviewed here is in any way sluggish and there are trade-offs for speed as described below.  Based on our experience of browsers, we concur with these findings.
Operating System (OS): Finding the right browser can depend to a great extent on what OS you are running on your PC.
Windows 8: If you use touch screen technology then IE is the best choice.  However, both Firefox and Chrome are better in terms of being expandable and offering device synchronization of program settings.
Windows 7: IE has some advantages (easy to use), but both Firefox and Chrome are better in terms of expandable functionality.
Windows XP:  The best choice is Google Chrome based on how far back it supports early versions of XP. IE is not supported on Windows XP.
Privacy: The three browsers each have private browsing modes.  Firefox and Chrome lead the way in this arena.  Note: browser privacy means not saving cookies or browsing history but does not protect you from websites that can collect or share information about you.  To take it to the next level you need to look into extensions, such as HTTPS Everywhere, Disconnect, or AdBlock Plus.
Extensions:  Firefox takes top place with a combination of add-ons, pin tabs, web apps and more.  Next in line is Chrome which taps into Chrome desktop apps and Google Now notifications.
Google Chrome
:
+ fast and reliable
+ good customization with exclusive access to the Google store extensions
– fast but uses up considerable computer memory; sluggish on older PC's
– some operations are not very intuitive
– compatibility issues on some sites (especially if using the 32-bit version)
Mozilla Firefox:
+ open-source means available to all developers; transparent and trustworthy
+ good set of available extensions for customization and functionality
+ intuitive in terms of creating bookmarks and changing options
– slower than Chrome for starting up and for loading web pages
– requires considerable memory; sluggish for older PC's
– compatibility issues with some sites; you sometimes have to install add-ons
Internet Explorer (IE):
+ easiest browser to use in terms of functionality
+ fewest compatibility issues
+ fully compatible with Windows 8 and has access to Windows store add-ons
– not as customizable and less extended functionality
– it has a history of being exploited and plagued by security issues
– slower than Chrome and Firefox by some reports
– also requires considerable PC resources
Price:  When making your choice you will want to know what the costs are and what it takes to try out a new browser.  Internet Explorer is included with Windows operating systems and can be downloaded for free.  All browsers are free to download and run and you simply have to go to the website (such as Mozilla.org or Google.com).  This makes it possible to pick and choose one – or more than one – without worrying about the price tag.
Browser Clean Up with PC Clean Maestro
:
Making a decision about which browser to use could depend largely on how well you can customize it and take advantage of extended functionality.  However, some things have a way of taking on a life of their own.  You can start off small – with the basics – and soon you have more than you bargained for.  This can happen all too easily with browser extensions.  At times these little program tidbits can get installed without our expressed knowledge or consent.  Situations occur where your homepage or our favorite search engine is modified.  In the worst case scenario, rogue or malicious software can make alterations we do not want.
The most recent version of PC Clean Maestro now comes with new functionality to provide you the ability to examine browser extensions and disable them.  Once you open the program you can click on the "Browsers" tab in the left pane and you will see the following: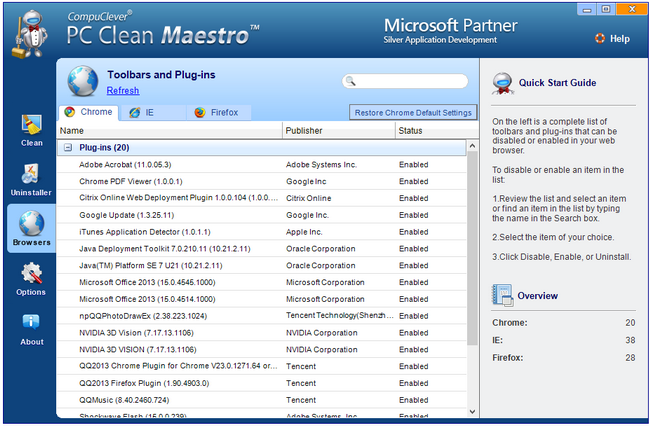 Now the steps are easy…
Review the list and select an item.  Note: you can also search for an item by typing the name in the Search box and then make a selection.
Click the applicable action button: Disable or Enable.
You'll note with the example above that extensions are organized in categories specific to the type of browser you are using.  Also, as in this case, more than one browser can be installed to your system and you can examine these one at a time using the tabs at the top (for example, "Chrome" or "Firefox").
Restoring Settings:  You can easily restore the browser settings that you had by default when first using your browser.  This is especially useful if they have been altered without your consent.  Frequently, new software installations like to make changes to your search engine or your homepage to direct your web surfing.  To restore your settings do the following:
At the top of the Browsers page, select the browser tab ("Chrome", "Firefox", or "IE").
Click the Restore button located at the top right.
Note:  If you have customized your settings you will have to repeat the process by opening up the Browser settings and choosing the homepage and search engine of your choice.
In Summary:
Being able to pick a winner from the top three most popular browsers is a personal decision for most of us but one that needs to be based on PC capabilities and individual needs.  We appreciate that there are these choices available to us and that the competition spurs on better technology.  We promote good ethics when it comes to PC technology.  Browser extensions need to be installed with our knowledge and consent and from trusted sources.  PC Clean Maestro offers the ability to have you turn off add-ons that are unwanted.
We will continue to provide story lines like this that benefit all of us and we will describe them in a manner that is within reach of everyday computer users.  If you have some ideas of topics you would like us to cover, email us at: newsletter@compuclever.com