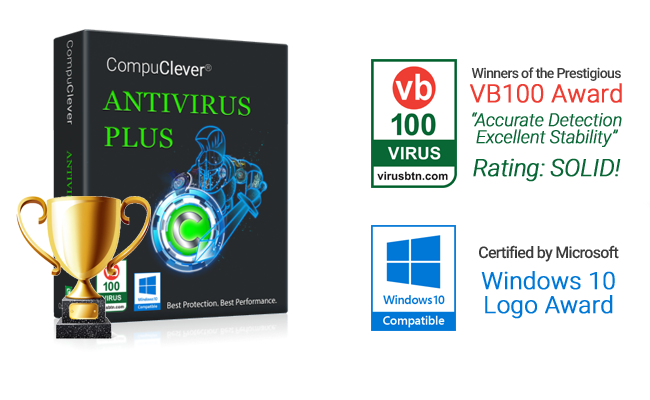 Victoria, British Columbia — CompuClever is pleased to announce Antivirus PLUS, its all-in-one PC security software, has achieved a favorable review from Virus Bulletin's renowned VB100 certification programme.
"As part of its review, released in the summer of 2016, Virus Bulletin noted that CompuClever Antivirus PLUS is accurate, stable and responsive, with a slick and attractive interface," says Andy Thompson, CompuClever Communications Director and Editor-in-Chief. "In its review Virus Bulletin also noted that CompuClever Antivirus PLUS provides a range of PC optimization tools and other software alongside its anti-malware offering, including a browser plug-in wallet system."
This is the second time CompuClever Antivirus PLUS received a VB100 rating of "Solid" from Virus Bulletin, with no false positives and "excellent detection."  CompuClever Antivirus PLUS has also passed the Windows 10 Logo Certification Test, which means it has obtained Microsoft's approval for running on the Windows 10 operating system.
"CompuClever Antivirus PLUS relies on sophisticated security technology to protect Windows computers against malware threats and is fully compatible with Windows 10, 8, 7, Vista and XP," says CompuClever's  Andy Thompson. "CompuClever Antivirus PLUS is designed to deliver the best performance for your PC and it's built on the most advanced antivirus technology available today."
Easy to use, CompuClever Antivirus PLUS allows any PC owner to manage security with a single click. The intuitive technology also guards online privacy and digital identity, including banking and credit card details, as well as email passwords and social media information.
About Virus Bulletin
Based in the United Kingdon, Virus Bulletin is a magazine about the prevention, detection and removal of malware and spam. It regularly features analyses of the latest virus threats, articles exploring new developments in the fight against viruses, interviews with anti-virus experts, and evaluations of current anti-malware products.
About CompuClever
Founded in 2010, CompuClever's mission is to provide PC users with a safe and enjoyable computing experience. CompuClever offers products and services, powered by knowledge, know-how and expertise, aimed at enhancing computer safety, performance and stability. CompuClever software products are designed from the ground up to provide powerful utility and optimization software that can be used quickly and effectively, even by novice computer users.
Contact
Andy Thompson
media[at]compuclever.com
957 Alston St. Victoria, BC
Victoria, BC, Canada, V9A 3S5
www.compuclever.com