Synopsis:  This month's article addresses a commonly experienced occurrence – not being able to open a file.  We will begin with some basic questions that need to be answered in order to prevent opening the wrong type of file.  It's unfortunate that in today's cyber world there are so many pitfalls to maintaining a healthy and secure PC but caution is a must when downloading, installing, or opening files on your computer.  After that we will look at how to deal with the problem of opening files using PC TuneUp Maestro.  There are tools that can help you in several instances including being able to recommend a free program, when one is available, that can open and view the file.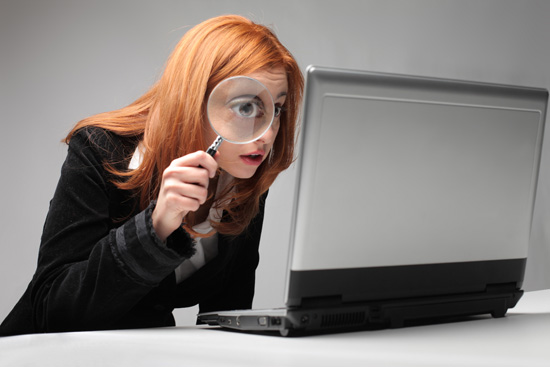 So let's begin by first examining the particulars.
The first question to ask is: Where is the file located? It could be that you are trying to open a file from one of the following:
A website
An email attachment
Your PC
Website:  If you are attempting to open a file that is on a website, it is possible that the site itself could be potentially dangerous as determined by the Windows security zone.  To see more about this go to the Microsoft website. [1] [2]
When to trust a website:
Microsoft lists[3] a number of signs that are good indication that a website is unsafe. A website might not be trustworthy if:
It is referred to you through an e‑mail message.
It offers objectionable content, such as pornography or illegal materials.
It makes offers that seem too good to be true (could be a possible scam or the sale of illegal or pirated products).
You are lured to the site by a bait and switch scheme, in which the product or service is not what you were expecting.
You are asked for a credit card as a verification of identity or for personal information that does not seem necessary.
You are asked to provide a credit card number without proof that the transaction is secure.
When in doubt use caution!  You can copy and paste the URL (the website address) of the website and check it out here to see if it is a known offender: http://www.urlvoid.com/.
Go to URLVoid.com and type in the website address in the field provided.  Alternatively, you can copy and paste the URL address.
Press the Enter key or select Submit to find the results.
The results include an overall "Blacklist Status" and a "Website Blacklist Report".  There are also valuable articles on PC security including malicious and fraudulent activities to keep you up-to-date on potential PC threats.
As for email attachments and with files on your PC we need to look closer at what is happening.
Do you know where this file came from? If it is from a trusted source, continue.  If not, take a closer look at where it came from.  If it is an email attachment from an unknown source you do not have to open it.  If it was downloaded or installed on your PC from the Internet see if you can identify the manufacturer and if it is a trusted source.  Sometimes all it takes is to do an online search for the file name.  If there is any suspicion that this came from a questionable source – do not open the file.  It could lead to a PC infection of a virus or other form of malware which could have serious consequences in terms of PC performance and function.
Next question: Are you receiving any error messages? In some instances opening a file can result in you receiving a notice that a virus has been detected.  If this is the case you can research and install a good anti-malware program to both clean and protect you from virus and malware attacks.  In other cases, and in fact in most cases, you will notice an error message as seen here.  This means your PC is unable to open the file and the rest of this article deals with how to solve this issue.
Can Your PC Open the File?
It could well be the cause for not being able to open the file is that your PC simply cannot perform the desired action.  There could be several reasons why this is happening including: the file is corrupt, the filename has been altered, or the correct program to open the file is not installed.  If the file is corrupt or altered in some way you will need to attempt to get a good copy of the file and delete the faulty one.
In most cases there will be one of two reasons you are having issues.  It could be the file is incorrectly registered in the system registry or it could be that your PC does not have the right program to open and run the file.  The correctly associated program is referred to as the host application.  You can use the Open File tool in PC TuneUp Maestro to solve this state of affairs.  Here's how.
Launch PC TuneUp Maestro and in the left panel menu, click Open File.
Enter a file extension or locate and select the file.  You can either type in the file extension in the text box or use the Select File button to locate and select the file.
Begin the scan.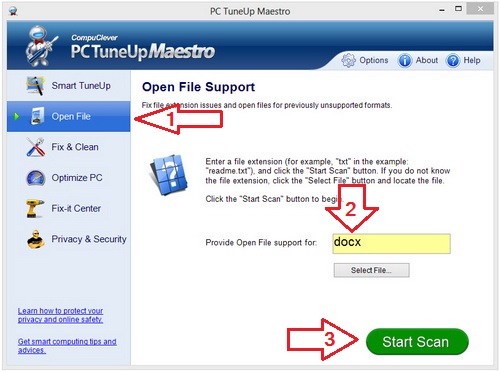 When the scan is complete, the results are displayed.  In some cases errors are detected and you can view the results and select the items you want to fix.  For example, it could be that the file type is improperly registered in the system registry.
Bottom line… The majority of the scanned issues for Open File can be corrected.  You can use the Smart Scan or a registry scan – the onboard tools available with PC TuneUp Maestro.  Or, as we have instructed here, you can use the Open File tool directly which works very well if the answer lies in not having the right software to open the file.  An added bonus with the Open File function scan is that it will recommend a free file viewer (if one exists), for the file format of interest and this information is presented at the end of the Open File wizard.  The Open File Wizard contains a database of over 5,000 unique file extensions.
We hope this information will provide the easy solution that will alleviate the frustration of not being able to open a file.  We will continue to introduce solutions and provide instruction in a manner that is not beyond the reach of average, everyday computer users.