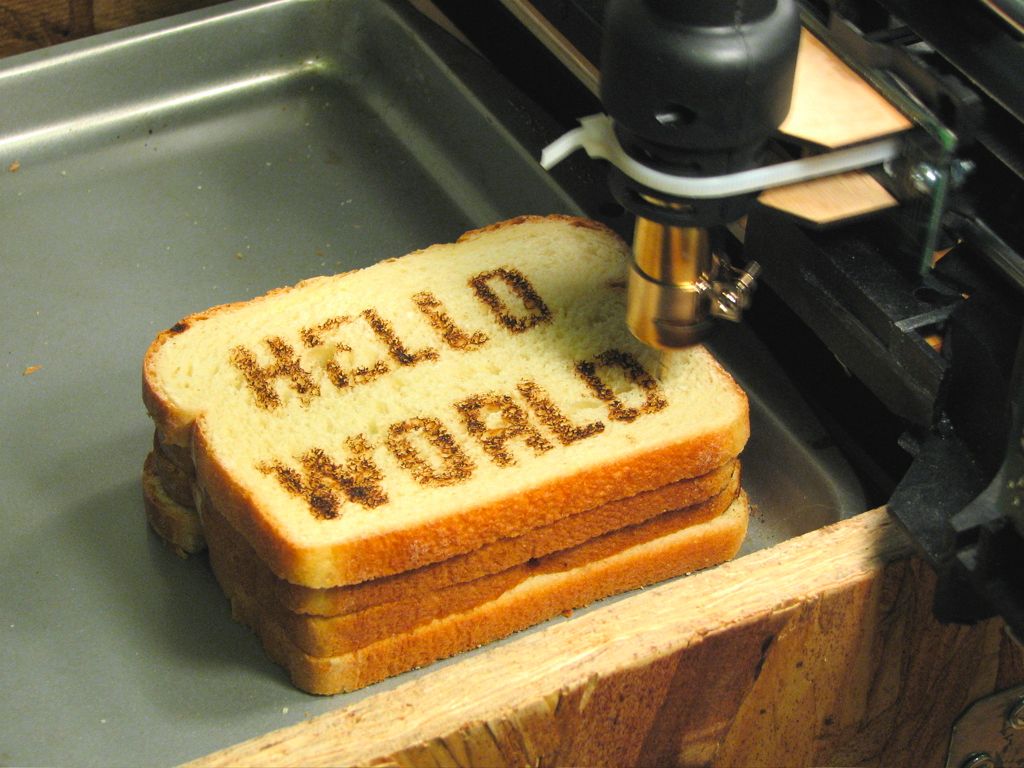 A few weeks ago a massive hack shut down much of the Internet. It's widely believed the hack was carried out through internet devices—a good reminder to us all about taking care of our own security online.
On Friday, October 21st, a lot of people were having a hard time accessing the Internet. First, Twitter went down. Then PayPal no longer worked. Later on cloud storage sites such as Dropbox went offline. For most of the day tens of millions of people could not access some of the most important and most useful websites on the Internet. Reddit, CNN and Netflix were all affected.
Was it a Russian hack? Could it be the Chinese? Nobody could say for sure. The only thing that was certain was that massive Distributed Denial of Service (DDoS) attack had occurred. The target of the attack was DNS service provider Dyn.
What is a DNS provider?
As as DNS provider and as a company, Dyn's job is to convert human-readable website names such as www.facebook.com into computer-readable numerical IP addresses (for example, 192.168.0.1)—humans prefer to use easy-to-remember-addresses such as www.facebook.com rather than the long, insanely complicated numerical strings favored by our machine servants.
Websites like Twitter and Dropbox rely on Dyn to help resolve and translate the various kinds of links each company uses as part of their product. For example, you post a link to your Twitter account, Dyn will make sure that whoever clicks on it will get sent to the right website. Dyn does this by having a massive database of domain names it can "point" web browsers to. If Dyn goes offline, Twitter, Dropbox and other web services can no longer "point" people about where to go.
The October 21 hack forced Dyn's domain name servers to go offline so nobody could use them. This pushed Twitter, Dropbox and other websites offline. It was alarming for any company who relies on Dropbox to store and access important files. The outage was also alarming to journalists, who rely on Twitter to share information and generally gossip with their colleagues.
The fact that Twitter went offline, then, ensured the DDoS attack would receive immediate and comprehensive coverage.
Were the Russians behind the October 21st hack?
But nobody knew exactly what happened. Thanks to the supposed role Russia has played in providing Wikileaks with hacked Hillary Clinton emails, there were rumors that Vladmir Putin was behind the massive hack.
But the real story was much weirder.
For one thing, the hack was the largest one in history.
It turned out the October 21st hack was not the work of Russia. Instead, it was largely orchestrated by amateurs. They used a weapon called the Mirai botnet as the 'primary source of malicious attack.'
Unlike other botnets, which are typically made up of computers, the Mirai botnet is largely made up of so-called "internet of things" (IoT) devices such as digital cameras and DVR players. Dyn estimated that the attack had involved "100,000 malicious endpoints."
Internet-connected devices made the hack inevitable
Basically, any device with an internet connection could initiate an attack against Dyn. All the attacker had to do was instruct an unsecured, internet-connected device to make a request to Dyn. The sheer volume of requests, made by millions of devices located around the world, from web cams to DVR players to, theoretically, at least, toasters, overwhelmed Dyn's DNS servers, shutting them down.
There's a theory that the massive attack on Octover 21st was targeted at the PlayStation Network and that Dyn was hit because it provides DNS services to PSN.
It could have been a few kids who brought down the Internet for a day in October.
Why every computer user should care about this attack
What lesson does this even have for the average computer user?
There are more ways to get hacked than ever before
In the case of the October 21st hack, the attackers may have been searching for "open" Internet-connected devices they could use to perform an attack. It could be your internet-connected toaster, or it could more likely be your computer.
2) You have bigger things than Internet-connected devices to worry about
Most of us do not own an Internet-connected toaster or even a "connected home" you can monitor remotely over the Internet.
But we all have computers, and people are getting infected by malware every day. Your computer is fundamentally insecure unless you do something about it.
Luckily an antivirus program can provide powerful protection against this.
How antivirus keeps you
safe
Antivirus software has long been recognized as a way to prevent your computer from being infected by viruses, malware, trojans and other harmful programs. But, by "locking down" specific ports and other access gateways, antivirus programs can prevent computer from being hijacked by a hacker.
The intuitive technology also guards online privacy and digital identity, including banking and credit card details, as well as email passwords and social media information.
How to avoid comprising on security
Having received a rating of "SOLID" from the prestigious VB100 Antivirus testing lab and awarded Windows 10 logo certification by Microsoft, CompuClever Antivirus PLUS is accurate, stable and responsive.
As an antivirus program, it provides a range of powerful PC optimization tools and other software alongside its anti-malware offering, including a browser plug-in wallet system. You get security without having to compromise on computer performance.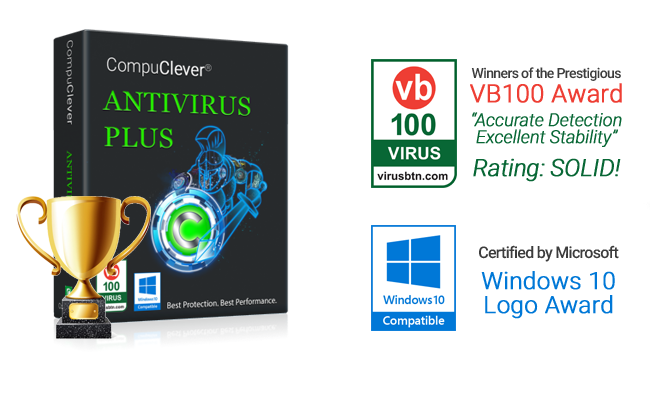 It's e
asy to u
se
CompuClever Antivirus PLUS is designed to be easy to install and use right away. There are no settings to configure, so your computer is protected automatically, at the touch of a button.
Shield your online privacy and personal identity
Antivirus PLUS allows you to safeguard your online banking, shopping, email and social media login information, making it impossible for malware, trojans or Internet hackers to get it off your computer.
Low
i
mpact on p
erformance
Compuclever Antivirus PLUS is designed to deliver the best performance for your PC. Many antivirus programs are "resource hogs", slowing everything down. You typically can't watch movies or use other programs.
However, Compuclever Antivirus PLUS is specially designed to work quietly in the background, while you enjoy using your computer.
This it's built on the most advanced antivirus technology available today. Exceptional in its ease of use, it allows you to handle security with a single click. The intuitive technology also guards your online privacy and digital identity.
This means you would never have to worry about your computer being taken over by hackers.